Prince Harry Vegas Fallout Continues, Dumped By Girlfriend!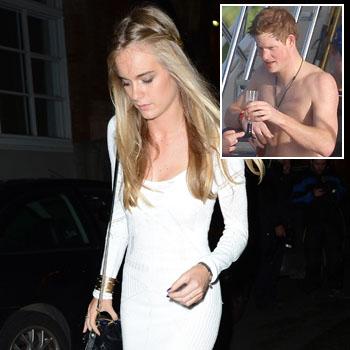 Prince Harry's woes continue following his embarrassing Las Vegas nude photo scandal, as new reports surface he has been dumped by his girlfriend.
Cressida Bonas told friends she was left "humiliated" by photos of her naked boyfriend cavorting with women and that she no longer sees a future with him, according to the Sunday Mirror.
As RadarOnline.com previously reported, Harry, third in line to the British throne, got a little too much into the Vegas spirit last weekend and was subsequently caught on camera, stripped naked in a clinch with a lucky lady.
Article continues below advertisement
The party Prince is set to make a public apology for his behavior, with a source telling RadarOnline.com, "Harry regrets the embarrassment he has caused the royal family around the world and plans on apologizing for his antics.
"He got a stern-telling off from his father, Prince Charles, as well as the Queen, who reminded him of his responsibilities as a member of the royal family.
"Even on vacation, the Prince has to realize that he is an ambassador for the country and should behave appropriately.
"Harry just wanted to let off a bit of steam with his pals before heading to Afghanistan where he will renew his army commitments – but he made a lapse of judgment after a boozy day of partying.
"He's been told to say sorry – not for the first time in his life – to nip this story in the bud."
But, it seems an apology isn't enough to save his fledgling relationship with socialite Cressida.
"Harry has blown it," a source told the Mirror. "Cressida saw a future with Harry but then he went and embarrassed her like he did in Vegas.