Exclusive
Prince Harry To Issue A Public Apology For His Naked Las Vegas Antics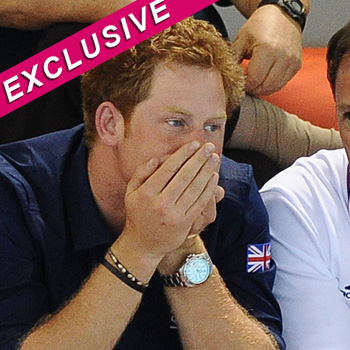 By Jon Boon - Radar Reporter
Prince Harry is set to publicly apologize for his naked Las Vegas photo scandal, RadarOnline.com is exclusively reporting. 
The 'Party Prince' plans to release a statement before he attends the Paralympic Games in London on August 29 to address the nude snaps showing him covering his crown jewels with his bare hands in his VIP suite at the Wynn Hotel.
And it won't be the first time the 27-year-old royal rebel has had to apologize to the nation for his inappropriate behavior either.
Article continues below advertisement
"Harry regrets the embarrassment he has caused the royal family around the world and plans on apologizing for his antics," a source revealed.
"He got a stern-telling off from his father, Prince Charles, as well as the Queen, who reminded him of his responsibilities as a member of the royal family.
"Even on vacation, the Prince has to realize that he is an ambassador for the country and should behave appropriately.
"Harry just wanted to let off a bit of steam with his pals before heading to Afghanistan where he will renew his army commitments – but he made a lapse of judgment after a boozy day of partying.
"He's been told to say sorry – not for the first time in his life – to nip this story in the bud," a source said.
At a friends' costume party in 2005, Harry was pictured wearing a Nazi uniform and the photos circulated around the globe. It forced him to say: "I am very sorry if I caused any offence or embarrassment to anyone. It was a poor choice of costume and I apologize."
Article continues below advertisement
Then, in an army video taken in 2009, Harry was accused of racist remarks. First, he called a soldier with Pakistani ethnicity "our little pa*i friend, later in the video he playfully referred to the same soldier as a "r**head." Once again, he was forced to issue an apology, saying his comments weren't meant maliciously.
As RadarOnline.com previously reported, Harry blew up at his security team for allowing someone to snap scandalous pictures of him playing a raucous game of naked billiards in his Las Vegas hotel suite with a gaggle of female partygoers.
"Harry cannot believe that his 24-hour royally appointed security allowed this to happen," a source revealed.
"When revelers are invited back to the suite of any famous celebrity for a party, you would expect any recording equipment like cameras or phones to be confiscated by the bodyguards.
"His security team is paid for with tax-payers' money, and they fly all around the world with Harry making sure he stays out of trouble and doesn't get hurt.