UK Tabloid Makes A Stand For Freedom Of Press, Vows To Run Prince Harry Naked Photos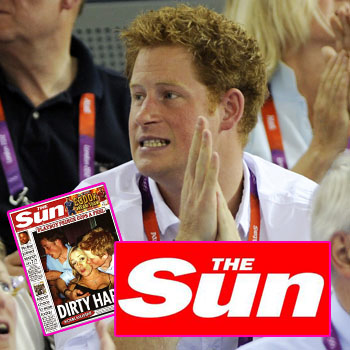 By Jon Boon - RadarOnline.com Reporter
Despite the royal family's legal team imposing a ban on any British tabloids publishing Prince Harry's naked pictures, one newspaper is standing up for the freedom of the press.
The UK's Sun will print the Las Vegas nude snaps of the 'Party Prince' in all his glory, covering his crown jewels with his bare hands in Friday's edition of the popular paper.
This goes against St James's Palace, who sent legal letters through law firm Harbottle & Lewis warning editors of all the leading papers that the photos were intrusive to Harry's privacy and should never be printed.
Article continues below advertisement
However, despite that block, millions of Brits had seen Prince Harry's rear end on the internet – where they weren't censored.
The Sun's managing editor David Dinsmore explained: "We've thought long and hard about this. The Sun is a responsible paper and it works closely with the royal family. We take heed of their wishes.
"We're also big fans of Prince Harry, he does a huge amount of work for this country and for the military and for the image of both of those institutions.
"We are not against him letting his hair down once in a while. For us this is about the freedom of the press.
"This is about the ludicrous situation where a picture can be seen by hundreds of millions of people around the world on the internet, but can't be seen in the nation's favorite paper read by 8 million people every day."
As RadarOnline.com previously reported, London-based Harbottle & Lewis said that the nude snaps of Harry were in breach of the Press Complaints Commission Code.
Article continues below advertisement
"In an effort to sweep this under the carpet as quickly as possible, Harbottle & Lewis have told the British papers not to run Prince Harry's naked pictures," a source revealed.
"The lawyers said anyone publishing them would be in breach of the PCC. The media outlets were also warned that their privileges for access to media events featuring the royal family could be restricted if they did use the pictures.
"Of course, the British media is very careful when a royal scandal is revealed nowadays and has to bow down to the royal family's demands.
"But despite the ban on the UK press, the pictures have already circulated around the world on the internet. Everyone has seen them, so Harry's blushes will never be spared – not in this day and age," the source revealed.
A spokesperson for St. James's Palace said: "Newspapers regulate themselves, so publication of photos is ultimately a decision for editors."