Prince Harry's Not The Only One! Seven Royal Scandals That Have Rocked Buckingham Palace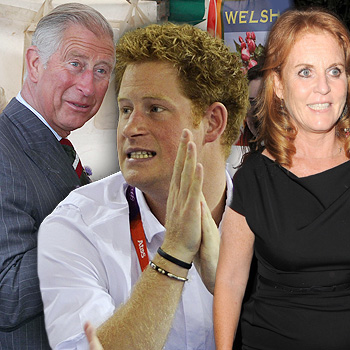 By Debbie Emery - RadarOnline.com Reporter
Buckingham Palace's bad boy Prince Harry's drunken display of his naked crown jewels while on a post-Olympics party trip to Las Vegas last weekend has caused his family to blush!
As revealed by raunchy photos that hit the web on Tuesday, Prince William's 27-year-old little brother got busted in the buff in a suite at the five-star Wynn resort in Sin City while playing a game of "strip billiards." Clearly the prince, who is third in line for the throne, isn't very good at the game, as he was totally naked apart from a distinctive pendent necklace and an equally nude girl clinging to him.
Article continues below advertisement
The palace has confirmed that the photos are of Harry and are now desperately doing damage control, but as RadarOnline.com can reveal, the rambunctious red head is far from the first royal to spark an embarrassing scandal.
Here are seven notorious moments that the royal family hopes will never make it into the history books:
7. Already the black sheep of the family, Sarah "Fergie" Ferguson plummeted to a whole new low when just months after she and Prince Andrew officially announced their separation in 1992, she was busted sunbathing topless with boyfriend John Bryan while he sucked her toes. The queen was far from amused and Sarah was banished from the royal household. The debt-ridden Weight Watchers spokeswoman recently got herself into more hot water when she was captured on a hidden video camera in 2010 while attempting to sell access to her ex-husband for $40,000.
6. Harry's father, Prince Charles may appear straight-laced but behind close doors he has a frisky side to him too. Charles and now current wife Camilla's longterm relationship was interrupted for 15 years by his marriage to the late Princess Diana, but the couple proved they kept their passion strong over the decades when a transcript of a private conversation was leaked in 1992 in which the former Mrs. Parker Bowles told her prince, "I'd suffer anything for you. That's love," and Charles famously replied that he'd like to "live inside your trousers." "Oh, you're going to come back as a pair of knickers?" Camilla asked, "Or, God forbid, a Tampax. Just my luck!" said the heir to the throne.
Article continues below advertisement
5. As the pretty younger sister to the future Queen Elizabeth II, Princess Margaret fell in love with a divorced man, Peter Townsend, who was 16 years her senior. Torn by the dilemma of having to give up her royal life and leave England for five years to be with the war hero, Margaret ultimately chose royal duty over her dream man and declared: "Mindful of the Church's teaching that Christian marriage is indissoluble, and conscious of my duty to the Commonwealth, I have resolved to put these considerations before any others." She later wed Lord Snowden, but ironically the marriage ended in divorce amid rumors of his affairs, drug use, and heavy drinking, questions about his sexuality and even speculation that he may have fathered a child months before their marriage.
4. Long before Prince William and Kate Middleton tied the knot before the world, the Queen's only daughter, Princess Anne, had a stunning royal wedding to army lieutenant Mark Phillips in 1973. The marriage was far from blissful, however, and after having two children with Anne, Captain Phillips went on to father a love child with a mistress in New Zealand. The couple divorced but fortunately Princess Anne bounced back and wed Commander Timothy James Hamilton Laurence in 1992, becoming the first member of the British royal family since Henry VIII to remarry after a divorce.
Article continues below advertisement
3. In the 1930s, the scandal surrounding Edward, Prince of Wales' love affair with divorced and then-remarried American Wallis Simpson ran so deep that he even gave up his right to the throne for her. Despite pleas from his family and the British government, Edward refused to break up with the object of his desire and when his father, King George V died, he told his country: "I have found it impossible to carry the heavy burden of responsibility, and to discharge my duties as King as I would wish to do, without the help and support of the woman I love." Younger brother Prince Albert went on to become King George VI and Edward became Wallis' third husband but no member of the British royal family attended their intimate wedding in 1937.
2. While she was considered by all as the innocent victim in the love triangle between husband Prince Charles and Camilla Parker Bowles, Princess Diana was embroiled in an embarrassing scandal of her own when tapes emerged of intimate conversations between her and alleged boyfriend James Gilbey. Dubbed "Squidgygate," the infamous recordings that were released in 1992 revealed that Gilbey repeatedly told the People's Princess "I love you" and called her "Squidgy" a total of 53 times.
Article continues below advertisement
1. Prince Harry's wild weekend in Vegas isn't the first time the party lover has caused the queen to drop her head in shame. In 2005, he stunned all of Britain when he showed up at a friend's birthday party dressed in what appeared to be a Nazi German desert uniform with a swastika armband, earning him a front page photo on the Sun newspaper with the headline, "Harry the Nazi." Having been blasted by Nazi bombs during World War II, the outfit offended many British war veterans, prompting the young prince to quickly apologize for his blunder and Clarence House to release a statement saying: "Prince Harry has apologized for any offense or embarrassment he has caused. He realizes it was a poor choice of costume."