Exclusive
Prince Harry Blaming His Security Detail For His Vegas Naked Photo Scandal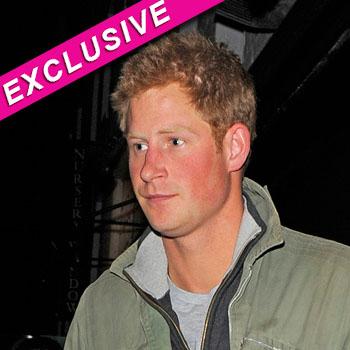 Article continues below advertisement
"Harry cannot believe that his 24-hour royally-appointed security allowed this to happen," a source revealed.
"When revelers are invited back to the suite of any famous celebrity for a party, you would expect any recording equipment like cameras or phones to be confiscated by the bodyguards.
"His security team is paid for with tax-payers money, and they fly all around the world with Harry making sure he stays out of trouble and doesn't get hurt.
"However, like Harry they were caught with their pants down and as a result another royal scandal has dominated the world news."
As RadarOnline.com previously reported, Prince Harry's blushes were spared in his own country as a legal team that represents the royal family banned the naked pictures from running in the UK tabloids.
London-based law firm Harbottle & Lewis sent Britain's biggest newspapers legal letters claiming that snaps of Harry, 27, covering his crown jewels with his hands, were in breach of the Press Complaints Commission code.
Article continues below advertisement
However, despite the ban imposed on the British press, photos of Harry's rear end have circulated around the world from U.S. to Australia!
"In an effort to sweep this under the carpet as quickly as possible, Harbottle & Lewis have told the British papers not to run Prince Harry's naked pictures," a source revealed.
"The lawyers said any one publishing them would be in breach of the PCC. The media outlets were also warned that their privileges for access to media events featuring the royal family could be restricted if they did use the pictures.
"Of course, the British media is very careful when a royal scandal is revealed nowadays and has to bow down to the royal family's demands.
"But despite the ban on the UK press, the pictures have already circulated around the world on the internet. Everyone has seen them, so Harry's blushes will never be spared -- not in this day and age," the source revealed.
RELATED STORIES:
Prince Harry's Legal Team Bans UK Papers From Running Nude Vegas Photos