Top Gun-In-Training Prince Harry Arrives In California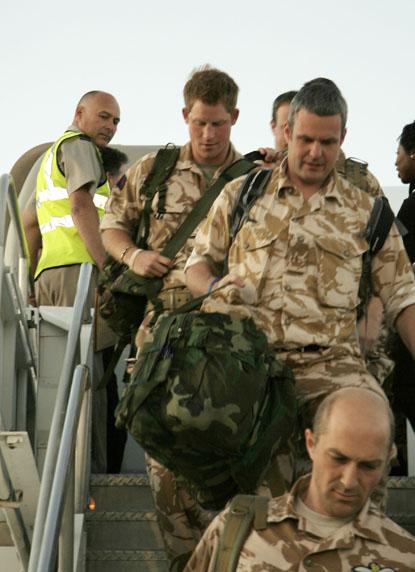 Prince Harry arrived at the Naval Air Facility in El Centro, California on Thursday, as he prepared for the final phase in his training as an Army Apache pilot, and RadarOnline.com has the first pic of the red headed royal.
The facility is about 110 miles east of San Diego (where much of the iconic 80s film Top Gun was shot); after his stint there, the 26-year-old prince will head to Gila Bend in Arizona to train at the Air Force Auxiliary Field.
Article continues below advertisement
The trip is part of the two-month training mission dubbed Exercise Crimson Eagle, in which British fliers will practice with the Apaches in terrain similar to southern Afghanistan, where some British troops are currently based. During his trip, Harry will use live fire for the first time in his helicopter gunship training.
Since this is a military -- and not royal -- visit, the Prince's agenda hasn't been released to the media; officials stressed that he is coming as a serviceman, not a representative of the royal family.
While he's not training, the prince would be able to visit nearby areas including San Diego, Palm Springs or Las Vegas, British Army Lt. Col. Peter Bullen told CNN, adding the amount of free time he'll have "depends on the flying program.
"It is a very intensive course," Bullen said.
This past March, Harry said his "goal is to serve his country like everybody else in the British forces.
"I count myself very, very lucky to have the chance to fly helicopters and even luckier to have the chance to fly the Apache," the prince said. "It's a fantastic piece of kit, it's like flying a robot."
Article continues below advertisement
In 2007-08, the prince served as a second lieutenant for the Blues and Royals regiment of the Household Cavalry for 10 weeks in Afghanistan, directing air traffic in offensive strikes against purported Taliban hideouts. His service time during the stint was cut short after officials pulled him out of the area, citing the intense media scrutiny put the prince and his fellow soldiers in harm's way.
RELATED STORIES: