Royal Home Video Shows Princes William And Harry As Children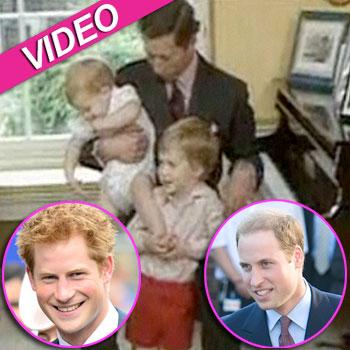 A newly released video shows Princes William and Harry playing a piano when they were children, and RadarOnline.com has footage of the rambunctious royals.
The "awww" inspiring home video was shot in 1985 when the brothers were toddlers and their parents Charles and Diana were about the age their sons are now, reported the Today Show on NBC.
Little fair-haired William, then 3, is shown playing the piano and whispering to his one-year-old strawberry blonde brother, who is stretching up to try and reach the instrument's keys.
Article continues below advertisement
The future King was trying to behave for the cameras but couldn't help acting like a normal kid as he fell over and burst into giggles.
In the film that was shot 26 years ago, a light-hearted Prince Charles can be seen playing peek-a-boo and hiding his face under a white cloth, while radiant Princess Diana relaxes on the floor and smiles proudly at her sons.
"He's very enthusiastic about things, he pushes himself right into it," said the 24-year-old mother about her oldest son. "He's not at all shy and very polite."
The boys' favorite spot in the room during filming was a covered table, where first William hid and then his little brother followed, crawly in his frilly white onesie to hide from photographers.
The enlightening look into the royals' personal lives was first aired on British news station ITN and marked a uniquely intimate insight into Charles and Diana's marriage.
When asked if she had enjoyed her 1981 royal wedding, Diana both cringed and laughed. "Enjoy something like that?" she asked. "It was terrifying! It was such a long walk down that aisle for a start."
Article continues below advertisement