Prince Harry Is Coming To America For Helicopter Training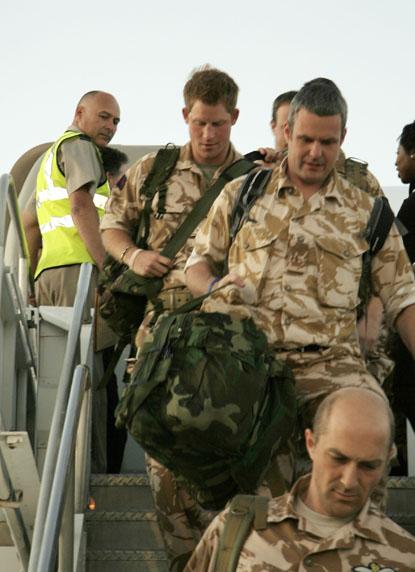 Following Prince William and Kate's high-profile trip to California last June, Prince Harry is coming to America this week.
While the Duke and Duchess of Cambridge's visit was dominated by strict social engagements, Harry's will be for work -- and no doubt plenty of play!
The youngest Prince is coming to the U.S. as part of an Apache attack helicopter training course conducted by Britain's Defense Ministry at the Naval Air Facility El Centro in California, about 90 miles east of San Diego.
Article continues below advertisement
After his stint in Southern California, 26-year-old Harry will then head to Gila Bend in Arizona to train at the Air Force Auxiliary Field.
The trip is part of the two-month training mission dubbed Exercise Crimson Eagle, in which British fliers will practice with the Apaches in terrain similar to southern Afghanistan, where some British troops are currently based, reported CNN.com.
During his trip, Harry, who is no stranger to the military having for 10 weeks in Afghanistan in 2007, will have the chance to fire a live missile for the first time, reported KABC-TV in Los Angeles reported.
Since this is a military and not a royal visit, the exact dates and times of the Prince's trip have not been released to the media, unlike with William and Kate where they entire itinerary was detailed from minute to minute, and officials have stressed that he is coming as a serviceman, not a representative of his VVIP family.
"We are treating him like any other O3 (junior grade officer)," Kristopher Haugh, deputy public affairs officer at the El Centro facility, told CNN.
Article continues below advertisement
While he's not expected to be tearing around on a Harley Davidson and singing karaoke in bars like Tom Cruise in Top Gun, there will be down time and if the Party Prince's past antics are anything to go by, then Harry will make the most of the local entertainment.
When stationed in El Centro, servicemen are often spotted at local bowling alleys, movie theaters, and clubs, along with more wholesome daytime activities like off-roading, hiking, birdwatching and trips to the picturesque Salton Sea.
The 42,000 residents of El Centro are excited to have a royal in town, and local business owners have been asked to respect the Prince's privacy, "They just want to put their best foot forward," said Cathy Kennerson, chief executive officer of the Chamber of Commerce.
Like thousands of military men before him, Harry is expected to make the drive across the desert to Las Vegas and let loose in Sin City.