Happy Birthday Prince Harry! Bad Boy Royal Turns 27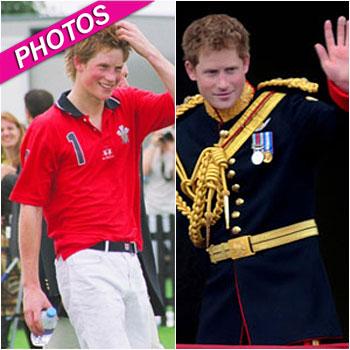 Rebellious British royal Prince Harry celebrates turning 27 Thursday.
The birthday boy is known for being the prankster of the family and it doesn't appear that he is slowing down his raucous behavior any time soon.
But he does have a serious side and instead of partying it up a storm on his big day, Harry is said to have spent the day at a Royal Air Force airfield to continue his Apache helicopter training.
Article continues below advertisement
As he turns another year older, and hotter, RadarOnline.com takes a look back at his life through the years.
Born Prince Henry Charles Albert David on September 15 1984, Harry is the second son of Prince Charles and the late Diana, Princess of Wales.
He is third in line to the British throne behind his father and elder brother Prince William.
After attending several exclusive schools in Britain he went on to the prestigious Eton College. It was the year before, in 1997, that a sad and forlorn 12-year-old Harry was seen walking behind his mother's coffin, after she was killed in a car crash in Paris, devastated by the loss of his beloved mom.
After he completed his exams, he took a gap year in 2003 where he went to Australia, Argentina, Africa and made a documentary about the plight of orphans in Lesotho.
He later co-founded the charity Sentebale with Prince Seeiso of Lesotho in memory of their mothers.
After several years of military training, Harry was promoted to Lieutenant and is currently working towards becoming a fully operational full-time Army Air Corps helicopter pilot.
Article continues below advertisement
Meanwhile, his love life has also been the subject of much rumor and speculation. He has been in an on-again, off-again relationship with Zimbabwean beauty Chelsy Davy since 2004.
Harry took the wealthy socialite to his brother William's wedding to Kate Middleton back in April but any talk that he may soon be following his sibling down the aisle has been dismissed and he is currently a confirmed bachelor.
However, that did not stop him having a short-lived romance with lingerie model Florence Brudenell-Bruce during the summer.
Harry recently showed off his wild side during a trip to Croatia where he jumped into a pool fully clothed while at a nightclub, climbed out of the pool and then proceeded to carry on dancing soaking wet.
He is going to be making a trip to California next month but it will be mostly business, and knowing the prince, a little bit of pleasure.
Article continues below advertisement