Prince Harry Drinks And Dances His Way Through The Caribbean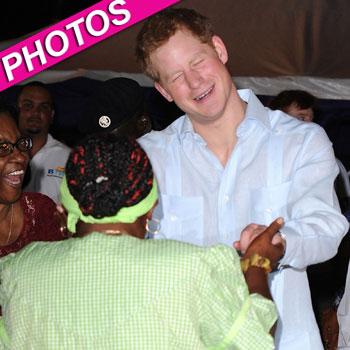 Prince Harry lived up to his nickname, the Party Prince, Friday night in Belize.
In the first day of his week-long tour of Commonwealth countries in Central America and the Caribbean representing his grandmother, Queen Elizabeth, in the celebration of her Diamond Jubilee as the UK's monarch, Harry danced, drank and basically out-partied everybody else on the scene.
In Belize, the 27-year-old helicopter pilot grabbed the hand of a middle-aged woman and twisted and jived around the dance floor during the Jubilee Block Party in Balmopan.
Article continues below advertisement
Harry also showed off some of his best Saturday Night Live moves with a pretty young dancer, and stopped to chat with an adorable young girl waving a flag.
Prince William's younger brother hit the outdoor bar between each dance, laughing and smiling as he was photographed downing everything from shots to tropical cocktails.
Harry also took care of some official business, and addressed the crowd of 2,000 revelers.
"'Her Majesty has asked me to send her good wishes to you all," he said. "She remembers so fondly her visits to this beautiful realm and speaks of the warmth of welcome she received on her most recent visit in 1994. I'm only sorry she can't make it and you're stuck with me."
It was obvious that no one felt "stuck" with Harry, and the dancing....and drinking....quickly resumed.
RELATED STORIES: