Exclusive
Prince Harry Wins Back Ex-Girlfriend After Nude Photo Scandal!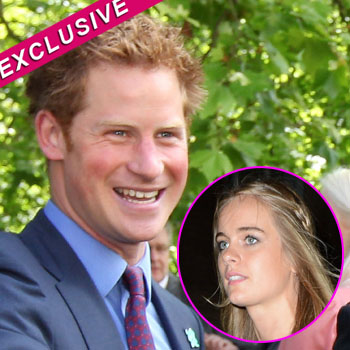 Article continues below advertisement
Harry, 28, just can't wait to see Cressida again when his four-month post ends.
"As soon as he landed in Afghanistan, Harry missed Cressida," a source revealed.
"They parted in a complicated fashion. Their relationship was on hold following the revelation of the nude photos in Las Vegas and because of Harry's plans to link up with the British army the pair decided to put their romance on hold.
"But Harry still had feelings for Cressida when he left the UK, and he stayed in touch with her, despite being stationed over a thousand miles away.
"They've had heart to heart conversations over the phone, and Harry told Cressida that he couldn't wait to see her when he got back. He admitted he missed her and wanted things to go back to normal when he returns.
"She feels exactly the same way and is willing to give their relationship another shot," the source revealed.
MORE PHOTOS: Sexy, Stunning And Shocking Fashions From The Royal Wedding
It was widely reported that Cressida had dumped Harry after he was pictured covering his crown jewels while playing a game of "strip billiards" in Sin City.
Article continues below advertisement
She told friends she was left "humiliated" by the photos and that she no longer sees a future with him.
"Harry has blown it," a source told UK newspaper the Mirror.
"Cressida saw a future with Harry but then he went and embarrassed her like he did in Vegas.
"He clearly isn't as serious about her as he had claimed to be in Necker and it's highly embarrassing. He's ruined his chances now. She's humiliated."