French Court Bars Closer Magazine From Publishing More Topless Photos Of Kate Middleton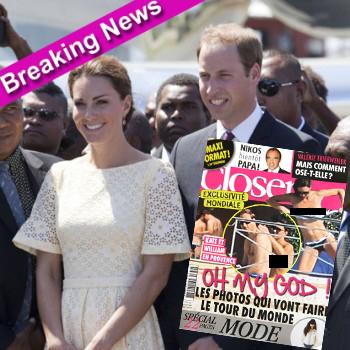 A French court Tuesday ruled in favor of Kate Middleton in wake of her topless photo scandal, as the Duchess of Cambridge waved to onlookers as she and Prince William left the Solomon Islands, not showing the slightest stress in the middle of the growing controversy.
A Nanterre, France court Tuesday barred the French magazine Closer publishing or distributing any more topless photos of Kate and ordered that it return the originals to the royal couple within twenty four hours or face a daily fine of 10,000 euros, which translates into approximately $13,063 in U.S. currency.
Article continues below advertisement
Italian Magazine Publishes MORE Topless Photos Of Kate Middleton!
The court also launched a criminal investigation of the photographers involved (and Closer magazine) as to whether privacy laws were broken with the pictures, Reuters reports.
Royal officials said the couple welcomed the decision. They said Prince William and Catherine "always believed the law had been broken" and they were entitled to their privacy.
Leaving the Solomon Islands, Kate looked resplendent in a primrose dress with lace overlay as she and Will prepared to leave for Tuvalu on the last leg of their Diamond Jubilee tour of Southeast Asia.
As we previously reported, last Friday, Closer published a 5-page spread of topless photos of Kate, hyping the issue saying, "Discover the incredible pictures of the future Queen of England as you've never seen her before...and as you will never see her again!"
Article continues below advertisement
200 New Nude And Topless Pics! Kate And William Brace For Release
Tuesday's court ruling only affects the French publisher. Italian magazine Chi published a 26-page spread of the images Monday. (Noteworthy is that former Italian Prime Minister Silvio Berlusconi owns the publishing house that released both publications.)
The Irish Daily Star also published the topless photos, and on Monday, the paper's publishers released the following statement: "Independent Star Limited has suspended editor Michael O'Kane with immediate effect, pending an investigation into the circumstances that led to the Irish Daily Star re-publishing pages from the French magazine Closer, which contained images of the Duke and Duchess of Cambridge."