Bummer! Danish Magazine Says It Is Not Publishing Bottomless Kate Middleton Photos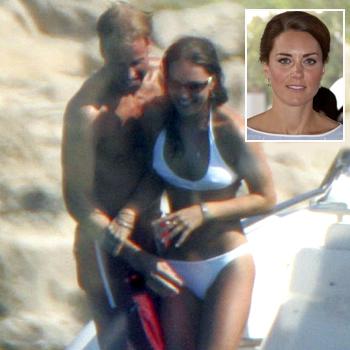 After days of seeming to promote its upcoming publication of photos of Kate Middleton without her bikini bottom, the Danish magazine Se Og Hør has announced it won't be printing any new shots of Prince William's wife sunbathing.
But have they already? As RadarOnline.com previously reported, the men's website Egotastic published scans of the Danish mag's pages clearly showing the future Queen of England changing out of her bikini bottom.
Article continues below advertisement
But on Saturday, editor-in-chief of Se och Hoer, Kim Henningsen told CNN it was not publishing photos beyond what it printed on September 20.
Defending those, he said, "It's a set of unique photos from an A-class celebrity. We are a leading gossip magazine in Denmark, and it is my job to publish them. If the British royal family want to sue us, then it will happen then and we'll deal with it."
The Royals have already launched a lawsuit against the French magazine Closer and won an injunction banning the gossip journal from publishing any more images from the set of Kate sunbathing.