Why Was Kate Middleton Hospitalized In Early Stages Of Pregnancy? Details On Her Severe Morning Sickness Condition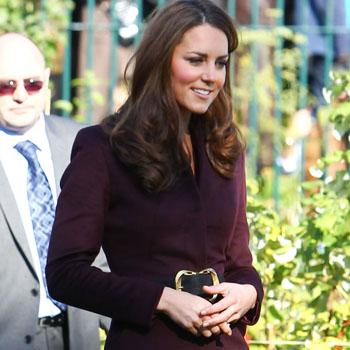 By Alexis Tereszcuk - RadarOnline.com Entertainment Editor
Along with the joyous news that Kate Middleton is expecting a royal baby, the Palace also announced that she is currently in the hospital and will be there for a few days for Hyperemesis Gravidarum, a serious type of morning sickness.
The Duchess of Cambridge, 30, has been admitted to King Edward VII Hopsital in Central London to treat the condition.
"Hyperemesis gravidarum (HG) is a rare disorder characterized by severe and persistent nausea and vomiting during pregnancy that may necessitate hospitalization," according to WebMd.com. "As a result of frequent nausea and vomiting, affected women experience dehydration, vitamin and mineral deficit, and the loss of greater than five percent of their original body weight."
Article continues below advertisement
Treatments for Hyperemesis gravidarum may include "Intravenous fluids (IV) – to restore hydration, electrolytes, vitamins and nutrients," according to AmericanPregnancy.org.
Further treatments could be "Tube feeding: Nasogastric – restores nutrients through a tube passing through the nose and to the stomach or Percutaneous endoscopic gastrostomy – restores nutrients through a tube passing through the abdomen and to the stomach; requires a surgical procedure."