Exclusive
Prince William Vows 'To Do Everything In His Power' To Protect Kate Middleton From Media Frenzy Surrounding Her Pregnancy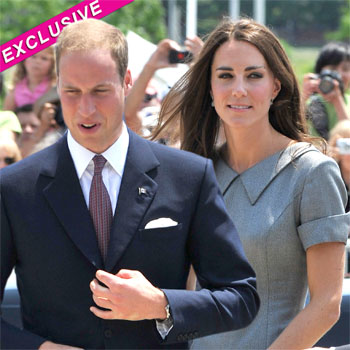 Prince William has vowed to move Heaven and Earth to shield his expectant wife and their unborn baby from the media furor created by the long awaited news of her pregnancy, RadarOnline.com is exclusively reporting.
As previously reported, Buckingham Palace made the happy announcement Monday that the couple is expecting, along with the news that Kate had been hospitalized as she struggles with an extreme form of morning sickness.
Article continues below advertisement
William is "excited and happy beyond belief" about the pregnancy but determined not to allow press intrusion to cause any disruption or possible harm to the well being of Kate and their first born child, according to a well placed Brit source, who goes on to say thatWilliam has called in the big guns to ensure he acheive his aims.
"William has always had a distrust, bordering on outright loathing, for the press," the source tells RadarOnline.com. "It all stems from his childhood -- watching the way his mother was built up and then torn down by the media and ultimately, he strongly believes to this day, hounded to her death by over-zealous paparazzi.
"He has vowed to do everything in his power to protect Kate from the media frenzy surrounding her pregnancy and Heaven help anyone who crosses the line. At William's behest the Queen instructed Palace bigwigs to individually call all of the chiefs at the British newspapers immediately following the pregnancy announcement and warn them, in no uncertain terms, that if any lines are crossed, any intrusive paparazzi shots are purchased and published, or if Kate feels hounded in anyway there will be hell to pay.
Article continues below advertisement
"William was deeply hurt and angered by the topless photo scandal Kate was forced to endure over the summer, and has made it crystal clear that, make no mistake, he will not allow his wife to be subjected to such blatant intrusion and humiliation ever again."
RadarOnline was first to report that William was considering legal action against the French magazine, Closer, after they announced their intention to publish a slew of topless photos of Kate taken with an extremely powerful long lens camera as the unwitting couple sunbathed onvacation at a private villa in Luberon in the South of France.
The Palace's lawyers subsequently filed suit against Closer, forcing them to take down the offending photos from their website, and William is keen to make it clear to the world's press than any future intrusion will also bring about the legal might, and full wrath, of the British Royal family.
"William is well aware that he leads a public life," the source says. "And he is more than willing and accepting to dedicate his life to the British people and lead a life of public service and duty. However, as much as William accepts his responsibilities he still firmly asserts that he and his wife also have the right to demand a degree of privacy.
Article continues below advertisement
"They can not be expected to live in a fishbowl 24-7 and William is determined to make sure both he and Kate are afforded time off from public life and media scrutiny to live their lives together with at least a sprinkling of normalcy -- this has just become even more of an ingrained belief since learning he is to become a father."
RELATED STORIES:
Is Kate Middleton Expecting Twins? New Details About Her Rare Morning Sickness