Exclusive
Royal Family 'Considering Legal Options' Over Kate Middleton Topless Photos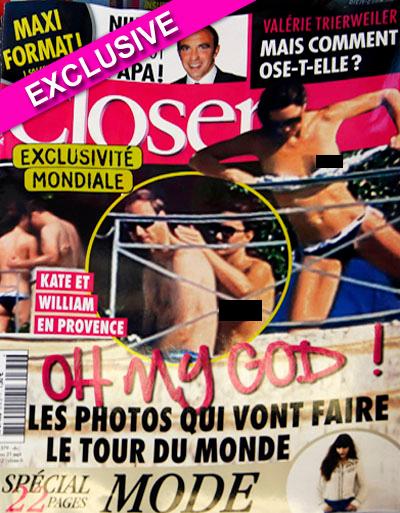 Article continues below advertisement
The magazine's editor claims the photos show Kate "fully topless," that there would be "nipples" and that scandal ridden Prince Harry would feel "less alone" when the magazine hits shelves.
"Discover the very sensual shots of Kate Middleton," the magazine's website brags about the topless photos.
"A little more than a year after their marriage, the royal couple was offered a romantic getaway, far from the protocol and etiquette in their very own garden of Eden.
"Almost alone in the world...because Closer was there! After the Olé Olé holidays of Prince Harry in Las Vegas, discover the very sensual shots of Kate Middleton and her husband Prince William.
"Discover the incredible pictures of the future Queen of England as you've never seen her before... and as you will never see her again!"
If legal action where to be taken it would be a landmark move for the Royal family as they have no history of suing the press, despite many occasions where they have been severely tested, but a source close to law firm, Harbottle & Lewis, tells RadarOnline.com they have been consulted regarding various options, including an invasion of privacy lawsuit and taking an injunction out against the magazine.
Article continues below advertisement
"These photos are clearly a blatant invasion of privacy," the source says. "They are obviously taken with a very long lens and capture Kate and her husband relaxing, on private property, where they had every expectation of complete privacy.
"This is not the same scenario as Prince Harry who basically set himself up for the fall. Kate has done nothing wrong and it is disgusting that a magazine, which is published in a country with some of the strictest privacy laws in the world, is allowed to go ahead and publish this rubbish.
"It doesn't go without note that this is the country where William's mother was chased to her death by overzealous photographers, it seems inconceivable they should be allowed to get away with this."
As RadarOnline.com previously reported, 30-year-old Kate and William were staying at the Château d'Autet, the private home of the Queen's nephew Viscount Linley, before their Diamond Jubilee tour together.
Article continues below advertisement
The couple, who obviously did not suspect a lurking paparazzo, was sunning themselves on the balcony and swimming in the pool of the estate when the intrusive photos were taken.
RELATED STORIES:
Kate Middleton Gives Hopeful Speech In Malaysia: 'Lives Can Be Transformed'
Singapore Surprise: Kate Middleton Toasts With Water, Prince William Says He'd Like 2 Kids
Pretty In Pink! Kate Middleton Shines In Singapore
Katie Couric Labels Dream Guest Kate Middleton 'Too Thin'