French Magazine Showing Kate Middleton Topless Hits Newsstands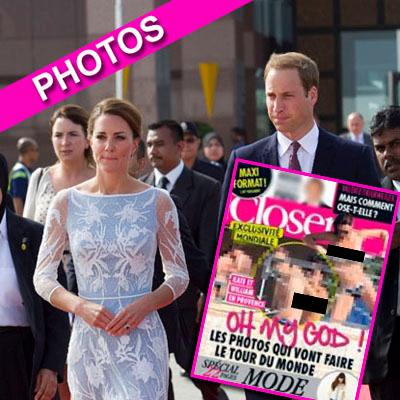 The horse has left the palace!
The French magazine, called Closer, first posted the cover of a topless Kate Middleton on its website, and the issue hit the newsstands later Friday.
The magazine published a 5-page spread of Prince William's wife sans bra after she made the mistake of sunbathing topless during a recent trip to the country.
They hyped the issue saying, "Discover the incredible pictures of the future Queen of England as you've never seen her before...and as you will never see her again!"
Article continues below advertisement
In the meantime, Kate stayed busy Friday, visiting a Mosque in Kuala Lumpur, Malaysia on the royals' ongoing Diamond Jubilee tour of Southeast Asia.
A St. James Palace spokesperson Friday addressed the tawdry photos in a statement: "Their Royal Highnesses have been hugely saddened to learn that a French publication and a photographer have invaded their privacy in such a grotesque and totally unjustifiable manner. The incident is reminiscent of the worst excesses of the press and paparazzi during the life of Diana, Princess of Wales, and all the more upsetting to The Duke and Duchess for being so.
"Their Royal Highnesses had every expectation of privacy in the remote house. It is unthinkable that anyone should take such photographs, let alone publish them. Officials acting on behalf of Their Royal Highnesses are consulting with lawyers to consider what options may be available to The Duke and Duchess."
RELATED STORIES: