Aussie DJs Pretend To Be The Queen & Prank Call Kate Middleton's Hospital!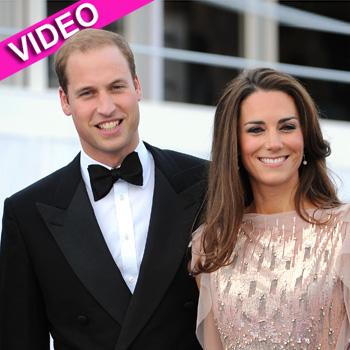 Even Ashton Kutcher wouldn't have the nerve to attempt this one …
DJs Mel Grieg and Michael Christian from the Australian station 2Day FM pulled a daring rib early Tuesday, prank calling King Edward VII hospital and impersonating the Queen and Prince Charles to get confidential medical information on Kate Middleton, who remains there battling a rare morning sickness early in her pregnancy.
Article continues below advertisement
A hospital spokesman said "the call was transferred through to a ward and a short conversation was held with one of the nursing staff," adding the facility "deeply regrets this incident."
The nurse -- saying Kate was about to be "freshened up" -- confirmed the 30-year-old wife of Prince William was "sleeping at the moment and … had an uneventful night.
"She's been given some fluids, she's stable at the moment," the duped medical professional added.
Asked when it would be OK to visit, the nurse said, "I would suggest that any time after nine o'clock would be suitable, because the doctor will be in in the morning, and will just be getting her freshened up in the morning … I would think any time after nine."
The nurse continued, "She hasn't had any retching with me, since I've been on duty, and she has been sleeping on and off … I think it's difficult sleeping in a strange bed as well."
Article continues below advertisement
Christian piped in, "Yes, of course, it's hardly the palace, is it?"
King Edward VII hospital chief executive John Lofthouse deplored the rib as "a foolish prank call that we all deplore.
"We take patient confidentiality extremely seriously and we are now reviewing our telephone protocols."
According to reports, the station has a checkered history involving content, having been disciplined three years ago when a 14-year-old girl was coaxed, on-the-air, into admitting she'd been raped.
As we previously reported, Will, 30, cracked a small grin leaving the hospital Tuesday, while St James's Palace confirmed that "The Duchess of Cambridge is continuing to feel better.
"She and the duke are immensely grateful for the good wishes they have received," the palace said. "She will remain in hospital at present and will continue to be treated for hyperemesis gravidarum."
Watch the video on RadarOnline.com
Article continues below advertisement