Royal Baby: Relieved Prince William Leaves Hospital, Palace Says Kate 'Feeling Better'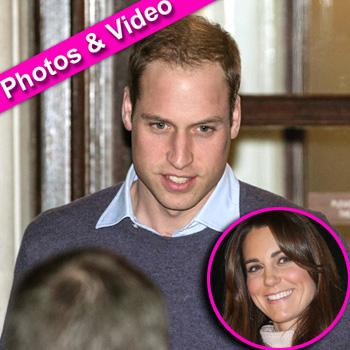 A weary -- but relieved looking -- Prince William departed London's King Edward VII hospital after spending six hours at wife Kate Middleton's side Tuesday.
While tired, Will, 30, cracked a small grin indicating his pregnant wife, 30, is holding her own as she battles extreme morning sickness which some experts say indicates she might be expecting twins.
"The Duchess of Cambridge is continuing to feel better," St James's Palace said Tuesday. "She and the duke are immensely grateful for the good wishes they have received.
Article continues below advertisement
"She will remain in hospital at present and will continue to be treated for hyperemesis gravidarum."
Other new details about the royal baby:
ABC News reported that Kate became sick over the weekend while she and Prince William were visiting her parents. Will himself drove Kate to the hospital.
ABC News also says Will and Kate had planned on revealing the pregnancy to the royal family on Christmas Day, but Kate's illness forced them to show their hand prematurely.
The network's royal correspondent Victoria Arbiter Brown predicts Kate's sister Pippa and Will's brother Prince Harry will be named the child's godparents.
"Kate is very close to her sister, Pippa, and William is infinitely, in the same way, close to Prince Harry. So, they are the obvious choice," Brown said. "They were the best man and the chief bridesmaid at their wedding, they're well-trusted, they're family.
Watch the video on RadarOnline.com
"Harry covers the royal side, Pippa covers the Middleton side. So, of course it's very early days to be thinking about that stuff, but I think when it comes to godparents, they're probably a shoo-in."
For those interested in the wacky wagers centered around the pregnancy, bookmaker Paddy Power is taking bets on whether Kate will have multiple kids, with twins at 8/1, triplets at 100/1 and quadruplets or more at 500/1.
Article continues below advertisement