Palace Approved Visitors! Pippa & James Middleton Visit Pregnant Kate In The Hospital!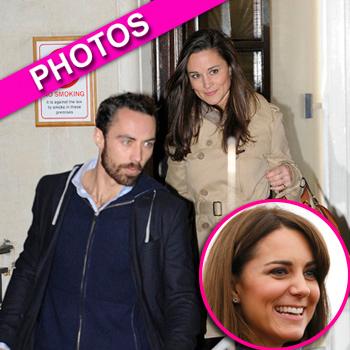 Article continues below advertisement
Smiling for the cameras, the siblings were photographed entering the hospital as they headed to visit with ailing Kate, who is pregnant with the baby that will be England's third in line for the throne.
Later in the evening, Kate's mother, Carole Middleton, also visited her daughter in King Edwards VII Hospital.
As RadarOnline.com previously reported, security at the hospital has been heightened following an embarrassing incident when Australian radio DJs prank called pretending to be Queen Elizabeth enquiring after the health of "her granddaughter" and managed to fool an unwitting nurse.
"She's been given some fluids, she's stable at the moment," she told the Aussie pranksters.
"The Duchess of Cambridge is continuing to feel better," St James's Palace revealed in a statement Wednesday. "She and the Duke are immensely grateful for the good wishes they have received.
"She will remain in hospital at present and will continue to be treated for hyperemesis gravidarum."
RELATED STORIES:
Aussie DJs Pretend To Be The Queen & Prank Call Kate Middleton's Hospital!
Royal Baby: Relieved Prince William Leaves Hospital, Palace Says Kate 'Feeling Better'
Prince William Vows 'To Do Everything In His Power' To Protect Kate Middleton From Media Frenzy Surrounding Her Pregnancy
Is Kate Middleton Expecting Twins? New Details About Her Rare Morning Sickness