Gone But Not Forgotten: Remembering The World's Great Talents That Were Taken Too Soon In Plane Crashes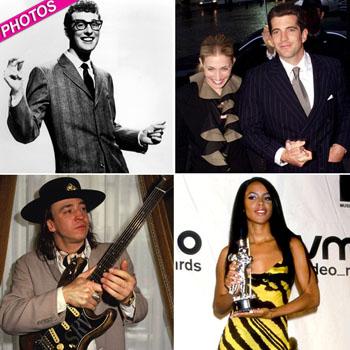 Singer Jenni Rivera's tragic death in a plane crash Sunday stirred up many memories of other talents that were lost far too soon in incidents of such nature, and with that in mind, RadarOnline.com takes a look back and checks out some of the biggest names lost in the skies.
Manchester United Football Team: Twenty-three people, including eight members of the reigning champion Manchester United football team, perished February 6 1958 after British European Airways Flight 609 crashed on an icy runway in Munich, West Germany. Twenty-one people survived the crash, which officials later ruled was caused by too much slush on the runway.
Article continues below advertisement
Ritchie Valens, J. P. "The Big Bopper" Richardson & Buddy Holly: February 3, 1959 came to be known as "The Day The Music Died," after three of the day's preeminent rock and roll acts were wiped out in a plane crash near Clear Lake, Iowa while traveling on a 24-city tour though the midwest. Poor weather conditions and pilot error were eventually attributed as the cause of the accident, which was vividly illustrated in the 1987 Valens biopic, La Bamba.
Roberto Clemente: The legendary Pittsburgh Pirates hitter died December 31, 1972 in a crash off the coast of Isla Verde, Puerto Rico while bringing supplies to Nicaragua after a destructive earthquake. The plane he was riding in, a Douglas DC-7, was overloaded by more than two tons when it crashed, killing the slugger and four others aboard. Baseball officials voided the normal waiting period for the Hall of Fame, electing the iconic Clemente less than three months later.
Article continues below advertisement
Ronnie Van Zant: Another musical talent we lost far too soon, the 29-year-old Lynyrd Skynyrd crooner was one of six people, and four band members, killed October 20, 1977 when the Convair CV-300 he was in crashed in the woods, as a result of a broken engine. The singer's father Lacy said that his son had frequently predicted he'd die before turning 30.
Thurman Munson: The surly New York Yankee backstop died at 32 on August 2, 1979 while piloting a Cessna Citation near Canton, Ohio that crashed as he practiced taking off and landing. The seven-time All-Star broke his neck in the incident, in which two of his passengers survived after fleeing the burning plane. Another Yankee, pitcher Cory Lidle, died while piloting a small aircraft in New York in 2006.
Ricky Nelson: The actor-singer died at 45 on December 31, 1985 when the Douglas DC-3 he was in crashed into a field near De Kalb, Texas, killing seven of the nine people aboard. After an exhaustive investigation, the NTSB linked the cause of the crash to a gas-fueled heater that had malfunctioned. After Ricky's death, his twin sons Matthew and Gunnar later found musical success under the family name, Nelson.
Article continues below advertisement
Stevie Ray Vaughan: The 35-year-old guitar wizard died with four others August 27, 1990 after the helicopter he was riding in crashed after taking off in foggy conditions, later deemed a pilot error by officials. Posthumously well-remembered, the Double Trouble musician ranked at #12 on Rolling Stone's list of The 100 Greatest Guitarists of all-time last year.
John F. Kennedy Jr.: Another chapter in the ever-growing book of Kennedy family tragedies, the great John John died at 38 on July 16, 1999 piloting a Piper Saratoga that crashed into the Atlantic Ocean near his family's haven of Martha's Vineyard, Massachusetts. The crash also killed his wife Carolyn Bessette, and her sister, Lauren. NTSB officials deemed the crash as a result of "the pilot's failure to maintain control of the airplane during a descent over water at night, which was a result of spatial disorientation."
Payne Stewart: The quirky golf ace died October 25, 1999 near Aberdeen, South Dakota en route to a golf tournament. NTSB investigators later deemed the plane the 42-year-old golfer was aboard depressurized, killing Stewart and five others on the plane, which subsequently crashed into a field.
Aaliyah: The Back & Forth singer's August 25, 2001 death was a shocker, as the music world lost one of its biggest up and comers at just 22. The singer's plane crashed near the Bahamas, killing the singer and eight others aboard. Authorities later indicated the plane was overloaded, and subsequent tests revealed the pilot had traces of alcohol and cocaine in his system.