Exclusive
Remembering Aaliyah On The 10-Year Anniversary Of Her Death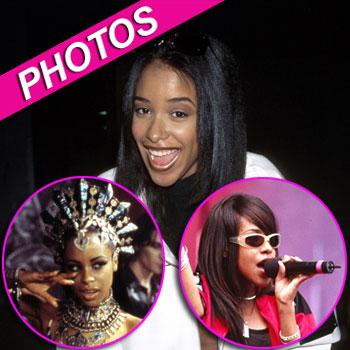 Long before Rihanna and Nicki Minaj topped the Billboard charts, pop singer Aaliyah had earned herself the nickname Princess of R&B.
On the 10-year anniversary of the tragic airplane crash that took her life too soon, RadarOnline.com is honoring the singer and her contributions to music.
Everyone from Diddy to Missy Elliott took to their Twitter to pay tribute to the later singer on Wednesday.
Article continues below advertisement
"Aaliyah til this very day u r still in Your own Lane!" tweeted Elliott. "Ure music is Timeless! We miss u!"
Diddy kept it simple, tweeting "RIP Aaliyah".
Born January 16, 1970 in Brooklyn, New York, Aaliyah Dana Haughton was destined for fame. At a young age she enrolled in voice lessons, and attracted the attention of her uncle's ex-wife Gladys Knight, who took her under her wing and put her on the stage.
Signed to Blackground Records at the age of 12, she was soon working with R.Kelly who produced and wrote many of the songs on her first album, which was released in 1994 and sold over 3 million copies.
The singer was surrounded by scandal after rumors circulated that she had tied-the-knot with Kelly at the age of 15. Though they both denied it, a marriage certificate later surfaced, but the marriage was reportedly annulled by her parents.
Article continues below advertisement
Aaliyah went on to work with all the big names in hip-hop, including Timbaland and Missy Elliott, releasing a total of three albums.
She also pursued an acting career, scoring the lead in Romeo Must Die, as well as the film adaptation of The Queen of the Damned.
At the age of 22, Aaliyah's life was abruptly ended in the Bahamas, when the Cessna 204B she was traveling in crashed shortly after takeoff, killing all the passengers aboard.
Damon Dash, who was her boyfriend at the time of her death, recently spoke to Billboard about her death.
"My heart was broken. Nothing prepares you for that," he explained to Billboard.com's The Juice. "She was one of the best people I ever met. Even with the pain I felt, I would do it all over again."
RELATED STORIES:
HBO Actor Michael Showers Found Dead In Mississippi River