Jacintha Saldanha's Family Breaks Silence On Nurse's Death Following Radio Prank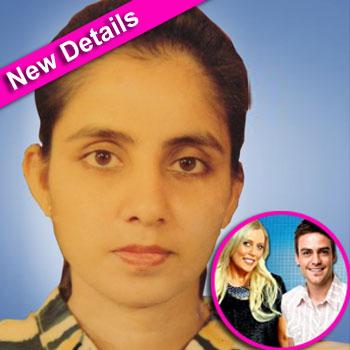 Jacintha Saldanha, the nurse found dead Friday following a phone prank from two Australian radio personalities that received worldwide attention, was a "proper and righteous person" who "would have would have felt much shame about the incident," her brother Naveen told Mail Online Sunday.
Saldanha, 46, is survived by husband, Benedict Barboza, 49, and children Lisha, 14, and Junal, 16. A devout Catholic, Jacintha and her husband moved from Mangalore in their native India to the United Kingdom more than 10 years ago. The family was understandably "very, very shocked and unhappy at the tragedy," a close friend told Australia's Herald Sun while Lisha posted on Facebook, "I miss you. I love you."
Article continues below advertisement
Saldanha's mother-in-law Carmine Barboza told the paper her son, an accountant, was "crying and couldn't speak much" after learning of his wife's death.
"More than that, we do not know about what actually happened," Carmine said. "She is dead, that's all. Jacintha was a very caring woman. We just cannot believe what has happened."
Jacintha's sister-in-law Celine Barboza told the Mail the nurse "was a very strong person and couldn't have taken this drastic step easily," adding the family "would like to get an answer."
Irene Barboza, another of Jacintha's sister-in-laws, said the late nurse "told no one in the family about the prank call that has been blamed for driving her to suicide."
Elsewhere, a family friend told the NY Daily News the consensus in the nurse's inner circle is that the radio personalities are to blame after setting the domino effect in motion with the phony phone call.
"Because of them only it happened. That's what we think," the friend told the paper. "We want an investigation about what happened to my friend. She wouldn't do that unless maybe she had some stress from the hospital. She's a very strong person. It's definitely stress from work."
Article continues below advertisement
The family's parish priest, Rev. Thomas Finnegan, said he visited the family Sunday, and that the late nurse's loved ones "feel they need this time together and alone, away from the media."
As we previously reported, the Sydney-based DJs -- Mel Greig and Michael Christian -- sat down for a pair of televised interviews after days in hiding following death threats linked to the incident. Both expressed heavy remorse about the nurse's shocking death.
"There's not a minute that goes by that we don't think about her family and the thought that we may have played a part in that is gut-wrenching," said Greig, 30, while Christian, 25, said he was "shattered, gutted and heartbroken" after hearing the news.
"Mel and myself are incredibly sorry for the situation and what's happened. I had the idea … it was just a simple harmless phone call. It was going to go on for 30 seconds. We were going to get hung up on."