Aussie Radio Show Canceled; DJ's 'Shattered, Gutted, Heartbroken' Following Nurse's Death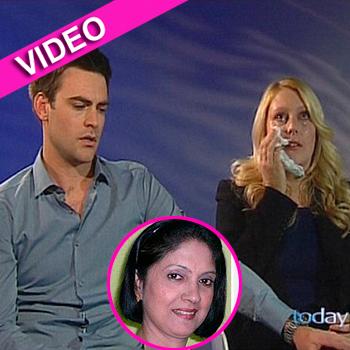 On Monday -- hours before their radio show was canceled -- Australian DJs Mel Greig and Michael Christian went on TV, tearfully apologizing for the prank that may have led to the tragic suicide of nurse Jacintha Saldanha, with Greig saying that learning of the woman's death "was the worst phone call I have ever had in my life.
In a new development, radio network Southern Cross Austereo canceled their show, the Hot 30, early Monday, as well as banning phony phone calls, scrapping various ads, implementing a thorough review of content policy, and keeping the indefinite suspension of the DJs in effect.
Article continues below advertisement
SCA CEO Rhys Holleran said, "First and foremost we would like to express our deep and sincere condolences to the family ... for their loss. We are very sorry for what has happened. We don't claim to be perfect and we always strive to do better.
"We have initiated a detailed and rigorous review of our policies and procedures to inform any improvements we can make. We are also providing support to our people who are deeply saddened by this tragic and unforeseen event."
Earlier in the day, Greig, 30, and Christian, 25, sat down with a pair of Australian media outlets (Channel 7's Today Tonight and Channel 9's A Current Affair) after days in hiding following the fallout of their prank phone call December 4 to London's King Edward VII hospital.
"I'm shattered, gutted, heartbroken," Christian said. "Mel and myself are incredibly sorry for the situation and what's happened. I had the idea … it was just a simple harmless phone call. It was going to go on for 30 seconds. We were going to get hung up on."
Article continues below advertisement
"There's not a minute that goes by that we don't think about her family and the thought that we may have played a part in that is gut-wrenching," Greig said.
As we previously reported, Saldanha, a 46-year-old mother-of-two, was found dead Friday, less than four days after the on-air prank gained international attention. Although, Scotland Yard did not release the cause of death, sources have told the Daily Mail that Saldanha committed suicide.
Greig said when she heard the news of Saldanha's suicide, "The first thing I asked was: 'Was she a mother?' If we played any involvement in her death, then we're very sorry. We couldn't foresee what was going to happen."
Greig said she would like to give Saldanha's family "a big hug and say sorry" for her role in the woman's death.
Greig added the pair didn't expect to get far in making the call, using exaggerated British accents in their impersonations of the royals.
Article continues below advertisement
"We wanted to be hung up on with our silly voices and wanted a 20-second segment to air of us doing stupid voice … not for a second did we expect to even speak to Kate or even have a conversation with anyone at the hospital. We wanted to be hung up on."
Christian said the nature of the call was so over-the-top neither could fathom how such disastrous consequences could arise out of it.
"I don't think that anyone could have predicted what could've happened … it was just a tragic set of circumstances … it was just something that was fun and light-hearted and a tragic turn of events that I don't think anyone had expected."
Watch the video on RadarOnline.com
The pair -- who were suspended from their jobs and received multiple threats since the nurse's death -- are undergoing counseling following the tragic chain of events.
youtube