Stephen Colbert Opens Up About Nightmare Of Losing Father & Brothers In Plane Crash When He Was Ten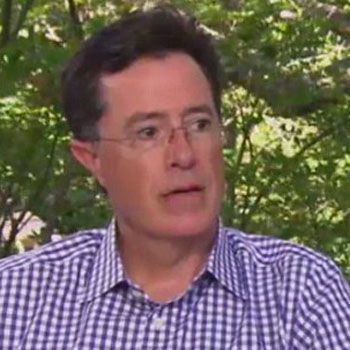 Outlandish TV talk show host Stephen Colbert has opened up about the nightmare of losing his father and two brothers in a plane crash when he was just 10 years old, RadarOnline.com is reporting.
The 48-year-old American political satirist, who was the youngest of 11 children in a Catholic family, spoke in an interview about the deaths of his father James and two older brothers Paul, 18, and Peter, 15, who tragically lost their lives when their plane crashed in North Carolina.
Article continues below advertisement
Promoting his new book, America Again: Re-Becoming the Greatness We Never Weren't, Colbert recalled the incident when Eastern Airlines Flight 212 went down in a cornfield on September 11, 1974.
Seventy-two people lost their lives in that tragic accident, while only 10 would go on to survive.
Explaining the loss, Colbert said, "that was my secret name," meaning it was something he stored deep inside.
"That loss was my name.... I liked the idea that you have a secret name. ... And that's a name that no one can ever really pronounce, you know, because it's who you are. There's a magic to your secret name."
Colbert revealed that the loss finally hit home during his freshman year of college: "I was in a bad shape. I was just green… I was so sad about it."
The devastating incident also had an effect on his appearance. He said that he lost 50 pounds during that year because of his depression.
However, despite the subject of the interview, Colbert cited religion for helping him pull through. In particular, a message from a priest: "Joy is the most infallible sign of the presence of God."
Article continues below advertisement
Now a family man himself, Colbert mused that nothing gives him more happiness than spending time with wife, Evelyn and their three children, Madeleine, Peter, and John.
America Again: Re-Becoming the Greatness We Never Weren't, is slated for release October 2 and features subjects such as energy policy, the constitution and eating on the campaign trail.
Colbert will also be hosting Good Morning America Tuesday.