Stephen Colbert Honors Ailing 91-Year-Old Mother In TV Return, Calls Her 'Tough As Nails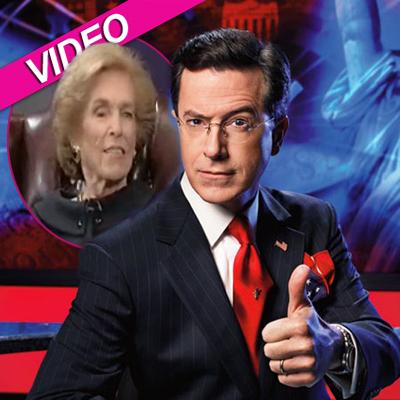 Political satirist Stephen Colbert was back on the air Monday night after canceling two shows last week in the wake of reports his 91-year-old mother Lorna was sick, and addressed some of the falsities floating around online, while paying homage to his ailing matriarch.
Colbert, 48, went through a laundry list of Internet rumors offered for his absence: he'd been taken off by the FCC because he was about to announce his presidential candidacy; he was 86'ed by the Catholic Church for comparing the Pope's hat to a condom; he was in rehab; and, according to Joan Rivers, he'd taken the time off to get plastic surgery.
Article continues below advertisement
Watch the video on RadarOnline.com
"Wrong Joan, I did not have my eyes done -- I had my a** done ... rumors quelled, moving on," he said. "Oh, and evidently, having 11 children makes you tough as nails."
Jon Stewart Slams CNN's Coverage Of Whitney Houston's Death
Colbert is the youngest sibling in his Irish-Catholic family of 11 children. He grew up on Charleston, South Carolina's James Island.
The Colbert Report airs Monday through Thursday nights at 11:30/10:30c on Comedy Central.