Superstition Mountain Plane Crash: Police Search For Bodies On Thanksgiving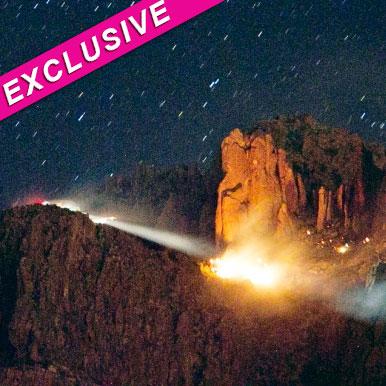 Search and rescue workers were at the scene of a horrific plane crash at Superstition Mountain in Arizona on Thanksgiving, desperately looking for bodies, RadarOnline.com can report.
The tragic accident on Wednesday night, in which a small aircraft plowed into the famous mountain range, is believed to have killed all six people aboard, but police have still only found the body of a child.
Article continues below advertisement
"Just one body of a child has been pulled from the wreckage so far," Pinal County Sheriff's spokesman Elias Johnson told RadarOnline.com exclusively after visiting the scene in the Flatiron part of the famous mountains.
"Rescue crews have now managed to rappel down the fuselage where we expect to find the others, unfortunately we don't anticipate finding anyone alive."
One of the men believed dead was co-piloting the plane which was carrying his three children - between the ages of five and nine - who he had picked up for the Thanksgiving holiday.
According to Johnson the plane had been traveling around 230 mph when it crashed.
"It's not known what caused the accident yet, but the FAA is investigating it."
The names of the victims are expected to be released later in the day.
RELATED STORIES: