Exclusive
Maybe She Didn't Die In Vain? Bullied Teen's Suicide Has Opened The Flood Gates For Other Troubled Kids, Say Police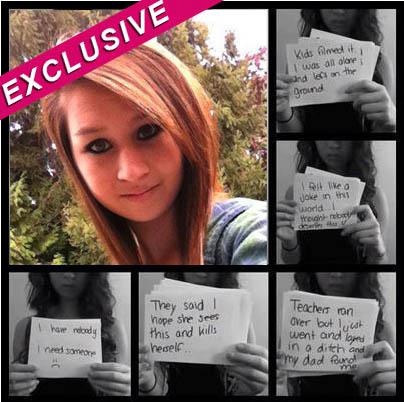 By Debbie Emery - RadarOnline.com Reporter
The heartbreaking case of 15-year-old Amanda Todd, who was driven to suicide by cruel taunts and online sexual harassment, has sparked a torrent of teenagers to contact police over cyber-bullying, RadarOnline.com can exclusively reveal.
"We have received many calls directly from young women and teenagers from across Canada and the U.S. who were upset about what they were seeing," Royal Canadian Mounted Police Sgt. Peter Thiessen told RadarOnline.com in an exclusive interview on Wednesday.
Article continues below advertisement
"They are upset about the Amanda Todd story and continued inappropriate postings and were all quite traumatized by that," explained Sgt. Thiessen, who took many of the calls on his public cell number.
"They were looking for a way to help and to see if we are able to make it stop. They were very difficult discussions to have."
As RadarOnline.com previously reported, a mysterious "angel of truth" appeared on a YouTube video on Monday under the name of Anonymous to claim that a 30-year-old man from New Westminster, British Columbia was to blame for the Vancouver area teen taking her own life on October 10.
After the hacktivist group revealed the suspect's name, a torrent of outrage flooded social media and hate groups threatening to kill him sprouted up all over Facebook and Twitter. However, police are calling the charges "unfounded" and have criticized Anonymous for their online attack.
"It certainly didn't assist our investigation," Sgt. Thiessen told RadarOnline.com. "We have been monitoring social media and there have been a lot of inappropriate comments online."
Article continues below advertisement
In regards to the vigilante group outing their prime suspect, the sergeant couldn't comment on whether Anonymous had any solid evidence on him, but confirmed: "The information that was provided to us through a variety of sources was unfounded, so that can speak for itself.
"We are not going to address the group directly and what information they may be providing publicly."
The unique nature of the Internet-based crime has lead to demands for a change in the law and sparked debate regarding a private members motion in the Canadian House of Commons between Members of Parliament on Monday.
"We are working within the current legislature law and the tools that we have right now to deal with this investigation," explained the chief investigator, who added that despite the difficulties, "We are certainly persevering."
Along with the torrent of calls from troubled teens, the police have received "thousands of tips," Sgt. Thiessen told RadarOnline.com, and have their full resources on the investigation.