Vigilante Group Outs Sexual Harasser Who Drove Teen To Suicide, 'You Will Be Punished'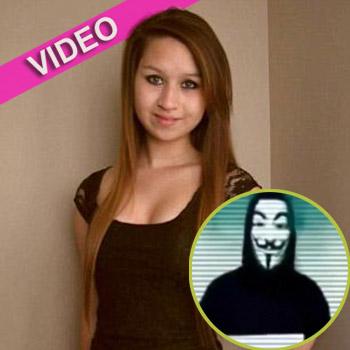 By Debbie Emery - RadarOnline.com Reporter
A vigilante disguised by a creepy mask and a digitally enhanced voice has hit the Internet with a damning message claiming that a Facebook employee is guilty of harassing a Vancouver-area teen so horrendously that she was driven to suicide.
The mysterious angel of truth appeared on a YouTube video on Monday under the name of Anonymous to claim that a 30-year-old man from New Westminster, British Columbia was to blame for 15-year-old Amanda Todd taking her own life on October 10.
Article continues below advertisement
"Name redacted is an obomination to our society and will be punished," said the auto-tuned voice of Anonymous in a haunting mock news report. "We are Anonymous, we are legion, we do not forget, we do not forgive. Name redacted, expect us!"
The masked spokesperson for the hacktivist group, which was named one of the most influential "people" of 2012 by Time Magazine, went on to post a message to listeners explaining the mission of justice:
"Dear citizens of our nation,
"We have brought this announcement forwards solely for the purpose of releasing Amanda Todd's punisher's identity. Below, you will find a URL to the man's DOX. In there, you will see various information about said person. Name redacted is an abomination to our society, and will be punished."
Before tormented Todd committed suicide last month, she posted her own YouTube video detailing her nightmare of bullying and self-harm, holding up cards telling of disturbing interactions on live webcams that began in 7th grade.
Article continues below advertisement
She went on to reveal that how after flashing a man who had called her "pretty and beautiful," she got a message on Facebook a year later threatening that if she didn't put a show on for him he would show "boobs" to all her friends, family and school pals. Then one morning over Christmas she got a knock on her door at 4 a.m. from the police, telling Amanda that her photo had been sent to everyone.
"Then I got really sick… anxiety, major depression and panic disorder. Then I moved and got into drugs and alcohol," she said.
Despite the move, Todd's stalker was relentless and he appeared at her new school, and made a Facebook page with her boobs as his profile picture. The blow was too much for the teen, who lost all her friends and the new respect she had earned, spiraling her into a cycle of cutting, self-hate, and solitude.
"I'm struggling to stay in this world, because everything just touches me so deeply," she wrote on YouTube. "I'm not doing this for attention. I'm doing this to be an inspiration and to show that I can be strong. I did things to myself to make pain go away, because I'd rather hurt myself than someone else."
Article continues below advertisement
Amanda's heartbroken parents revealed after her death the strength it took to make the video. "She told me why she made it — she wanted to send a message out so that it wouldn't happen to someone else, so no one would have to go through what she went through," father, Norm Todd, told the Vancouver Sun. "It makes me happy that her voice is still alive and being heard."
If the named man is the one to blame for Amanda's suicide, he will have to face a torrent of outrage that is already flooding social media, with groups such as "Name redacted WILL die," and "Name redacted Better Sleep With 1 Eye Open" filling up Facebook.
Further information on Pastebin.com alleges that the man extorted Todd for X-rated photos and "is the pedophile that social engineered Amanda Todd into supplying him nude pictures."
Vice.com took the outing a step further, by posting information that connects the alleged cruel tormenter and his victim, including Google Map screenshots of his house, his Facebook profile, chat conversations and screenshots from a "jailbait" website account supposedly tied to the man.
Article continues below advertisement
In an e-mail to Canada's CTV News, Anonymous revealed: "We generally don't like to deal with police first hand but were compelled to put our skills to good use protecting kids. Ironically we have some good people in Vancouver who brought this to our admin's attention.
"It's a very sad story that affects all of us."
Meanwhile, the named man appeared Monday at Surrey provincial court house, where he faces charges of sexual assault and sexual interference with a minor in a case unrelated to Todd. He told CTV News he knew the 15-year-old, but insisted he was her friend and claimed he helped identify a man in New York who was harassing her and passed his name on to the authorities.