You Will Not Believe This: Man Caught On Camera Mocking Limp Of 10-Year-Old Cerebral Palsy Girl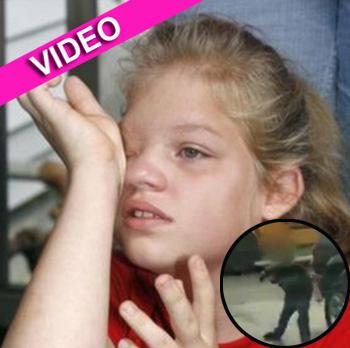 Imagine the Hatfields and the McCoys - complete with police blotter, caught on tape jaw-droppers, "They started it first" defenses, and the horrific bullying of disabled children - and we're just talking about the grown-ups.
As a feud rages between his family and their neighbors, Ohio father-of-five William Bailey was caught on camera (with his 9-year-old son Joseph) relentlessly mocking a 10-year-old girl named Hope Holcomb, who suffers from cerebral palsy, by using an exaggerated limp to imitate the way she walks to the school bus stop.
Article continues below advertisement
Bailey said he only resorted to humiliating the handicapped girl because of the ongoing family feud. He says the limp was a direct response to the Knight family's mocking of his son Joseph, who suffers from seizures and ADHD. He said he was inspired to limp as if he has CP after the rival family taunted his son by calling him a "retard" at the school bus stop.
"I told my son, 'If they want to call us retard, we'll show them a 'retard.' And we walked to the car from the bus like that. I did that with my son," Bailey told the Canton Rep. "I never even meant that or anything at all toward little Hope. I don't make fun of anybody with a disability. I wasn't making fun of anyone."
"They just kept calling my little boy names and I reacted badly," he said. "You have to defend your son, your children."
Hope's mother Tricia Knight told Fox the taunting "started last year … we had trouble on the bus, Hope was miserable, she didn't want to ride the bus, cried every morning. Tricia added the son, Joseph, "treats Hope like crap, and most recently, the dad got involved."
The girl's father Mike Knight said, "We just want the bullying and the ridiculous behavior from the kids and the adults to stop."
Article continues below advertisement
Bullied Teen Whitney Kropp Triumphs Over Tormentors At Homecoming Game