Rebecca Black: I Left School Because Of Teasing Over Friday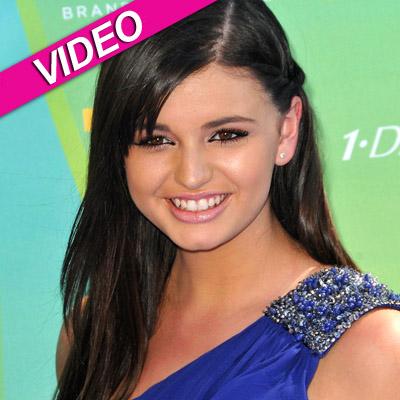 Rebecca Black has found both fame -- and infamy – since the release of her song Friday.
The 14-year-old Anaheim, California girl, whose single has garnered more than 167 million Youtube views in the past six months, told Nightline on Tuesday that she'd been so getting brutally ribbed by classmates about the song, she decided to leave the school.
"When I walk by they'll start singing 'Friday' in a really nasally voice," she recanted of the abuse she took from petty peers. "Or, you know, they'll be like, 'Oh hey, Rebecca, guess what day it is?'"
Article continues below advertisement
Shortly thereafter, her mother Georgina Marquez took her out of the junior high she was attending and is now home schooling her.
"She certainly did not need that kind of pressure," Marquez said.
"I've had a lot of experience with not being liked and all that," Black said. "I think if I hadn't had to deal with that in the past then I totally would have handled this differently and I would have gone down in burning flames. But I've learned that you just can't let it get to you."
Singer Gavin DeGraw Was Hit By Cab After Vicious Attack
After her breakout in March, Black told ABC News that as a victim of schoolyard bullies, she'd "learned to have a thick skin" long before she ever got a single "Thumbs Down" or nasty comment for her Youtube efforts.
"I was bullied all the time in school," Black said. "I don't know what was so different about me that made people want to pick on me. I thank those people because if it wasn't for them, I wouldn't be here right now. I would probably still be sitting at home crying. I've dealt with that my whole life.
"I laugh at them now."
ABC News has more with Black on its' special Underage and Famous, which airs Wednesday at 10/9c.