Bullied Teen Turns Homecoming Heroine After Cruel Prank Backfires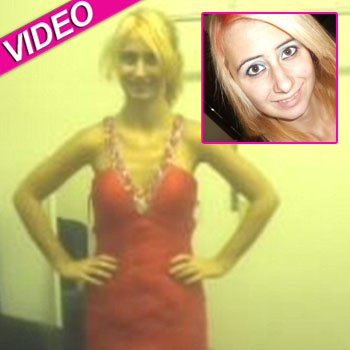 By Debbie Emery - RadarOnline.com Reporter
A bullied teenager who was tormented by her high school classmates was shocked to learn that she had been voted onto the homecoming court, but her delight at the good news quickly turned to humiliation when she learned it was a cruel prank.
Whitney Kropp, 16, of West Branch, Michigan, was the object of such disdain by fellow students that they thought it would be hilarious to nominate the unpopular girl for the popularity contest, reported the Detroit News, but they never expected the tables to be turned on them.
Article continues below advertisement
Rather than ending up as a Carrie-like horror story, Whitney is experiencing a fairy-tale ending after residents of the tiny farm town have rallied behind her and supported the unlikely bid.
"I thought I wasn't worthy," said Kropp, who was laughed and pointed at in hallways after her name was put forward. "I was this big old joke - I thought why even be a part of this world if I am just going to be tossed around like trash."
Now with the homecoming dance just days away, local businesses are plying her with free perks including dinner, professional photos, manicures and make-up, and even a glamourous gown, shoes and tiara!
During the homecoming game on Friday, residents will fill the football stadium of Ogemaw Heights High wearing Whitney's favorite color of orange and tee-shirts pledging their support.
"I never thought I would be part of it," she told NBC's TODAY. "Really it is just for the big popular people."
Article continues below advertisement
The celebration is a remarkable sign of good karma for the lonely teen who for years has been either mocked, emotionally tortured or simply ignored by her classmates until her name was called out during geometry class announcing she had been voted in to the court with the rest of the popular kids.
With her dyed hair and black goth-like outfits, Whitney never fit in with the other youngsters in the sleepy rural town, who took the stance of hurting anyone who dared to stand out.
Described as "soft-hearted" and "not having a mean bone in her body," by her family, she was excited when she heard about the nomination – even when football star and other sophomore rep, Josh Awrey dropped out. "In the Homecoming Court! :) Little nervous but this is going to be fun," she wrote on her Facebook page, which elicited a string of coy replies from bitchy classmates.
That night though she was found heart-broken and crying by her mother, Bernice Kropp, as she sobbed that she didn't want to do it.
Article continues below advertisement
"She was getting ridiculed in school and on Facebook," said the concerned parent, who along with other family members persuaded Whitney to go to homecoming and prove to the bullies that she is better than they are.
"Im a beautiful person and you shouldn't mess with me!" the girl, who was once kicked with steel-toed boots, later wrote defiantly on her timeline.
A Facebook page that has been created to back her has already garnered more than 67,000 "likes," as a slew of well-wishers have come out to share their own bullying experiences.
"You want to protect your kid, and you feel angry and mad at what has happened, but at the same time the outpouring to help her has been beyond expected," revealed her proud mom.
Instead of an arrogant jock, Whitney will be attending the dance with her boyfriend, "who has been very quiet and supportive through all of this," on her arm.
"I'm excited to go as I can prove everyone wrong and show I am not this joke that you guys thought of," she vowed.