Bullied Bus Monitor Meets Anonymous Benefactor Behind Massive Donations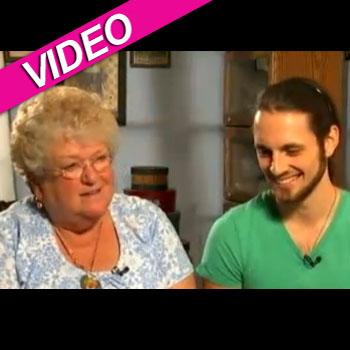 By Debbie Emery - RadarOnline.com Reporter
The bullied bus monitor who rose to fame and fortune last week when supporters raised more than $659,000 for shocking and disturbing video of her being victimized hit YouTube has now met the man behind the anonymous donations.
Karen Klein, 68, welcomed Max Sidorov into her Greece, New York home on Tuesday night to thank him for setting up the website asking for donations to send her on vacation, which will now change her life for good and even allow her to retire from her job on the school bus.
Article continues below advertisement
"Great. Great. Nice guy, nice guy. I'm very appreciative," said Klein after the emotional meeting, reported Good Morning America.
As RadarOnline.com previously reported, four seventh grade boys from the Greece Central School District near Rochester, New York videoed their torment and then posted the shocking clip -- which had more than 1.2 million YouTube hits in less than two days -- showing a sobbing Klein being bombarded with insults about her weight, graphic sexual comments, threats, called poor, and then physically assaulted with a book.
Her guardian angel was inspired to help the grandmother of eight because he had been bullied himself once too. "I know how it feels, nobody should have to go through that, ever," revealed the Toronto native. "If everyone gave each other support and kindness, none of this would ever happen anywhere."
With an original goal of $5,000, the Indiegogo.com site is now catapulting up toward a million, and more than 7,500 signatures have accumulated on a Change.org petition urging President Obama to allow Klein to receive the donations tax-free.
Article continues below advertisement
"I almost feel like I don't deserve it. They should be sending their donations to other people that have more problems than I do," said Klein, but she is determined to do something useful with the money. "I need new carpeting, maybe a paint job here and there. Pay off all my bills so that I can retire."
Her daughter, Amanda Romig told RadarOnline.com last week that her mom also plans to give some of the cash to charity.
"She has a lot of ideas including making a donation here and there. My nephew has autism and my niece has Down syndrome, and with those types of disabilities the kids are going to get picked on too, so she wants to help both causes," she explained.
Klein has said she will not press charges against the boys and hopes they will not be expelled.
"She wants them to be suspended off the bus for a year, and not to be allowed to do extracurricular activities," Romig told RadarOnline.com, explaining that her well-meaning mom would like to see punishment but nothing too severe.