Boys Apologize, As Money Pours In For 68-Year-Old Bullied Bus Monitor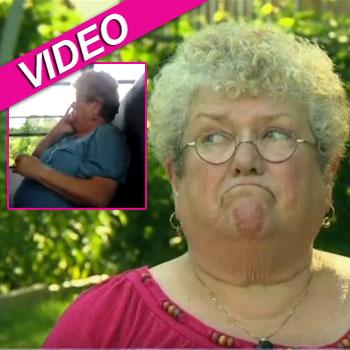 By Neil Woulfe - RadarOnline.com Senior News Director
As some of the boys who viciously bullied a 68-year-old bus monitor issued apologies to her, the online fund, originally started to raise $5,000 to send Karen Klein on vacation, now stands at more than $500,000, as of Friday morning -- enough for Klein to retire, although she says she will not.
As RadarOnline.com previously reported, a video shot Monday showing the grandmother being viciously taunted by four middle-school students in the Greece Central School Distict near Rochester, New York quickly went viral -- by Friday morning, it had garnered more than 4 million views.
Article continues below advertisement
In the disturbing 10-minute video -- captured by one of the bullies who then posted it on his Facebook page, before someone posted it to YouTube -- the seventh grade boys unleash a stream of profanities against Klein, calling her a "troll" and "fat," making threats to "cut her with a knife." In addition, they made graphic sexual statements, and threatened to come to her home to steal from her.
One boy's comment to Klein was especially shocking. He told her that she does not have family because "they all killed themselves because they didn't want to be near you." (Klein's eldest son took his own life 10 years ago. It's not clear if the boys knew her son has committed suicide.)
In an interview Thursday with CNN's Anderson Cooper, Klein said the kids misbehaved occasionally, but Monday's incident was unlike any other she had experienced, and she said she didn't know what to do.
She told Cooper she looked out the window, wanting to "make it go away." She says she "didn't hear everything that they said," adding, "I probably would have been a lot more upset if I did."
Watch the video on RadarOnline.com (WARNING: Content Is Disturbing & Contains Profanity)
Article continues below advertisement
Klein says she knew only two of the boys by name and knew where they lived; she also said she knew they'd be getting off the bus soon, which "was making me happy."
She says she has "no clue" why they did it, probably only to "impress each other."
At one point, she told two of the boys, "I am a person, too. I shouldn't be treated this way."
Klein has said she doesn't want to press criminal charges, saying she doesn't think they're "bad kids." However, she does want the boys punished. She said the boys should be banned from both the bus and from playing sports for a year, and perhaps be required to perform community service.
"I want to make sure that they never do this again, to anybody," she said.
Police say the four students identified in the video spoke to authorities voluntarily and without lawyers present.
CNN's AC360 received statements from two of the boys and the father of a third student apologizing for their behavior.
"When I saw the video, I was disgusted and could not believe I did that," one boy named Josh said. "I am sorry for being so mean, and I will never treat anyone this way again."
Article continues below advertisement
As for Josh, Klein said he "always has a smirk on his face," and that "she just doesn't believe anything Josh would say."
A teen named Wesley said he regretted his actions and "would be really mad" if someone had done the same to a family member.
"If your friend says to bully somebody, please don't do it," said the father of Luis, another of the seventh-graders. " We apologize to Ms. Klein. We're deeply sorry."
In wake of the video going viral, the boys have now find themselves the target of hatred.
"They've received death threats," Greece Police Capt. Steve Chatterton said Thursday. "Their families have been threatened. We have custody of one of their cell phones, and he had over 1,000 missed calls and 1,000 text messages threatening him. And he's 13 years old. That must stop."
The story has sparked international outrage. A Canadian man -- who says he knows what it's like to be bullied -- started the fundraising campaign on indiegogo with the intent to raise enough money to send her on vacation.
Article continues below advertisement
"I had no idea I was going to raise anywhere near this amount. I thought maybe a few thousand," Max Sidorov said from Toronto. "Maybe to send her somewhere nice. But this is enough for her to retire."
Towards the end of the CNN interview, Cooper surprised Klein with some more good news.
He said Southwest Airlines planned to provide her and nine others with an all-expense paid trip to Disneyland in Southern California.