Mitt Romney Held Presumed Gay Classmate Down, Cut Off His Hair, Old Pal Says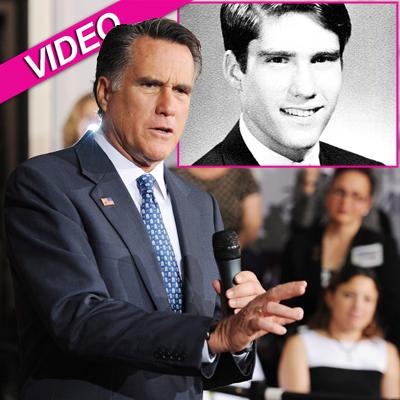 In wake of the country's attention on the issue of bullying -- and in particular bullying targeting gay teenagers -- Mitt Romney is coming under fire for an incident when he was in high school during which he allegedly targeted a classmate presumed to be gay.
Matthew Friedemann, one of Romney's old school pals at Cranbrook School, an all boy's institution in Bloomfield Hills, Michigan, tells the Washington Post that Romney held down classmate John Lauber -- who was "perpetually teased for his nonconformity and presumed homosexuality," according to the report -- before snipping Lauber's bleach blond locks while he cried and screamed for help.
Article continues below advertisement
Friedemann said Romney told him, "He can't look like that … that's wrong … just look at him," before organizing the impromptu haircut.
Romney, 65, told Fox News' Brian Kilmeade in an interview following the stunning revelation, "As to pranks that were played back then, I don't remember them all, but again, high school days, if I did stupid things, why, I'm afraid I've got to say sorry for it.
"If there was anything I said that was offensive to someone, I certainly am sorry about that," he said, adding he was a huge ribber during his teenage years.
Watch the video on RadarOnline.com
The former Massachusetts Governor was linked to another incident in which he heckled a classmate (who later came out as gay) with chants of "Atta girl!"
The Harvard graduate said bullying the boys because they were gay "was the furthest thing from our minds back in the 1960s, so that was not the case," as the victims "didn't come out of the closet until years later."
Romney, vocal in his opposition to same-sex marriage, is reportedly trying to shift the focus of his campaign to how he could fix the economy.