Iowa Caucus Shocker! Rick Santorum Actually Came In First Over Mitt Romney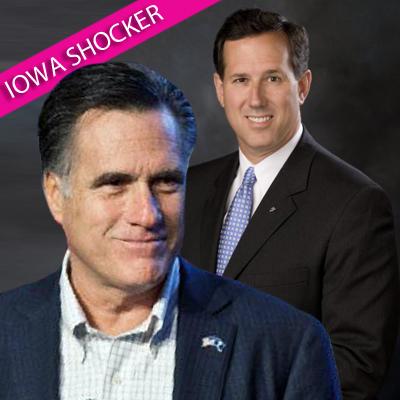 Rick won, not Mitt!
In a shocking surprise, ultra conservative Republican presidential candidate Rick Santorum actually came in first in the Iowa caucuses with 34 votes over Mitt Romney, who initially was declared the winner, the Des Moines Register reported Thursday.
On its website, the newspaper reported that results from eight precincts are still missing and might still hold an advantage for Romney. Those votes may never be recovered and certified, the paper reported, quoting state Republican Party officials.
Article continues below advertisement
Romney called the result a "virtual tie" in a statement that noted Santorum's "strong performance." Romney said the caucuses were a "great start."
Iowa officials announced Romney as the winner of the nation's first presidential contest in the early morning hours of January 4 because he was leading Santorum by eight votes in its initial tabulation from the 1,774 precincts where voting was held in the state's 99 counties.