Texas Governor Rick Perry Delivers His Top Ten Excuses On David Letterman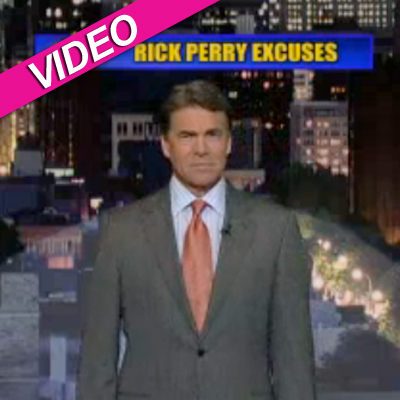 Radar Staff Writer
Texas governor Rick Perry continues to try and make lemonade out of lemons.
The longest-serving governor of the Lone Star State mocked his own tongue-tied performance in Wednesday's GOP debate by delivering David Letterman's Top 10 Rick Perry Excuses on Thursday's show.
And they were:
10. "Actually there were three reasons I messed up last night. One was the nerves, two was the headache and three was, and three, uh, uh. Oops."
Article continues below advertisement
9. "I don't know what you're talking about. I think things went well."
8. "Hey, I was up late last night watching Dancing With the Stars."
7. "I thought the debate was tonight."
6. "Hey, listen. You try concentrating with Mitt Romney smiling at you. That is one handsome dude."
5. "Uh, el niño?"
4. "I had a five-hour energy drink six hours before the debate."
3. "I really hoped to get on my favorite talk show, but instead I ended up here."
2. "Hey, I wanted to help take the heat off my buddy Herman Cain."
1. "I just learned Justin Bieber is my father."
As we previously reported, when Perry was asked what three federal departments he would eliminate during Wednesday's debate, he replied, "Commerce, Education and the -- what's the third one there? Let's see ..."
Perry, stalling and stammering, struggled to answer the question. His GOP colleagues suggested the Environmental Protection Agency, which the politician initially agreed with, but then backed off of, still unable to specify which agency he'd do away with.
Article continues below advertisement
"Seriously: You can't name the third one?" moderator John Harwood said, stunned.
"The third agency of government I would do away with -- the Education, the Commerce. And let's see. I can't. The third one, I can't," Perry said. "Oops."
Many experts early Thursday predicted the Texas-sized choke would cost Perry his campaign -- Steve Schmidt, the organizer of Sen. John McCain's 2008 campaign, put it most bluntly: "It's over for him."