New Herman Cain Accuser Says He Is A 'Monster'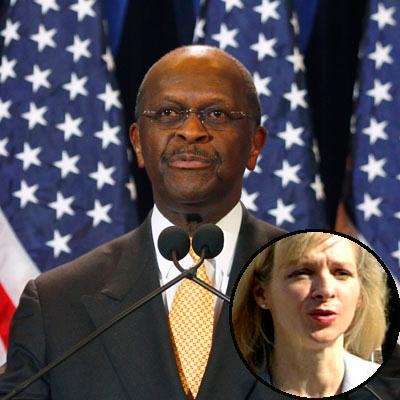 Senior Radar Reporter
A new woman who has accused Herman Cain of sexual harassment has said that the Republican presidential candidate is a "monster."
Karen Kraushaar, who was identified Tuesday and now works for a government agency, told ABC News that Cain "could be described as a monster."
Her attorney Joel Bennett said she had a "series" of incidents with Cain while she was employed at the National Restaurant Association in the 1990s and his actions "qualified as sexual harassment in our opinion. Kraushaar reportedly received a $45,000 settlement from the NRA and left after making her complaints against Cain.
Article continues below advertisement
Cain denied the allegations by Kraushaar in his news conference Tuesday, saying, "They were found to be baseless and she could not find anyone to corroborate her story."
Cain has also been accused of sexual harassment by three other women, two of whom remain anonymous and Sharon Bialek, who held a news conference with her powerhouse attorney Gloria Allred on Monday to describe the details about her encounter with Cain.
"He suddenly reached over and he put his hand on my leg under my skirt and reached for my genitals," she said happened in 1997 and also said Cain "grabbed my head and pulled it to his crotch."
Cain also denied the serious allegations Bialek leveled against him, claiming that he has never met her and the incident never happened.
The women accusing Cain of sexual harassment may band together and appear in a joint news conference.