Sharon Bialek: 'I Want Herman Cain To Tell The Truth'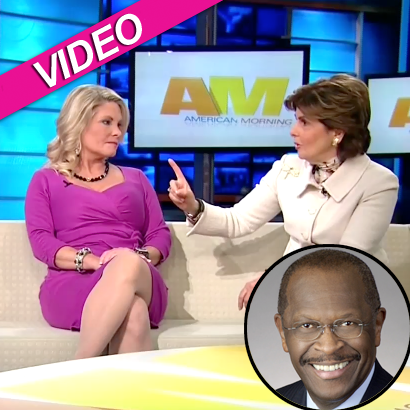 The fourth woman who's claiming Republican presidential hopeful Herman Cain sexually harassed her, Chicago native Sharon Bialek, sat down with CNN Tuesday morning, again saying she wants Cain to come forward and admit his past indiscretions.
As we first reported, Bialek's claimed in a news conference in New York on Monday that when she came to Cain for professional help in 1997, he "suddenly reached over and he put his hand on my leg under my skirt and reached for my genitals."
Article continues below advertisement
With her attorney Gloria Allred by her side, Bialek on Tuesday told the network she "expected" criticism from right-wing pundits like Rush Limbaugh and has a thick skin about it for the greater good.
Bialek said her biggest concern before coming public was how it would impact her 13-year-old son; when she asked him his thoughts on the matter, he advised her to "do the right thing" and "tell on" Cain.
"If my son is saying it, I want to be the role model for him," Bialek said.
Bialek admitted she has had money issues, having to file bankruptcy after family issues, but she said she hasn't taken a dime for her story, and Allred has taken her case on free of charge.
"My main objective," Bialek said, "was to tell the truth."
Bialek said she chose Allred to represent her because she's "the best" at what she does.
Article continues below advertisement
Prominent Democrat Allred, asked if representing Bialek was just a way to scrape at the Republican party, noted she was just as hard on Democratic politicians (such as former President Bill Clinton and ex-New York Rep. Anthony Wiener) caught in hanky panky scandals.
"It doesn't matter to me, the party of a man ... it's a deflection by Cain ... he has to admit, in specific detail, what he has done," Allred said.
Cain, appearing on Jimmy Kimmel Tuesday night, said, "There's not an ounce of truth in all of these accusations, and my team is putting this stuff together. That is why I'm willing to do a press conference ... to set the record straight."
Bialek said in response to Cain's Kimmel appearance, "You know what I want to say to Herman: If not for yourself, to come forward and admit this, what is your wife going through?
Article continues below advertisement
Watch the video on RadarOnline.com
"That's who I feel for the most."
Allred added that "sexual harassment is not a joke — to go on late night TV and make jokes about it — it's not funny."
Cain's news conference is slated to begin in Phoenix at 3 p.m. local time Tuesday; stay with RadarOnline.com for more on this story as it breaks.
radar_embed service=5min.com src=" http://pshared.5min.com/Scripts/PlayerSeed.js?sid=1126&width=486&height=412&playList=517713306&sequential=1&shuffle=0"