Exclusive
New Woman Accusing Herman Cain Of Sexual Harassment Hires Gloria Allred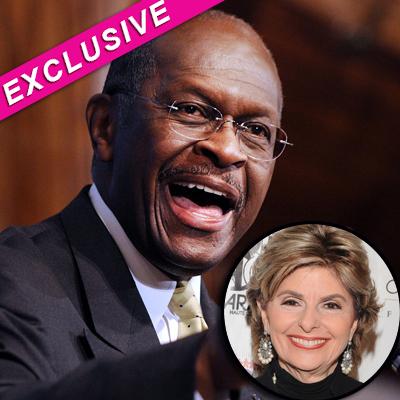 UPDATE: Sharon Bialek leveled serious accusations against Herman Cain at her press conference Monday, saying he "Suddenly reached over and put his hand on my leg, under my skirt and reached for my genitals," and "He also grabbed my head and pulled it towards his crotch."
Bialek said she asked why he was doing this and Cain told her "You want a job, right?" She says she is not seeking financial compensation and wants Cain to admit what he did. Cain released a statement calling denying the accusations and saying they were "bogus attacks."
Article continues below advertisement
Gloria Allred said "Mr. Cain decided to provide her with his idea of a stimulus package."
Woman Accuses Herman Cain Of Grabbing Her 'Genitals'
A new woman alleging sexual harassment by presidential hopeful Herman Cain will break her silence at a news conference with her powerhouse attorney Gloria Allred Monday afternoon in New York City, RadarOnline.com is exclusively reporting.
The embattled GOP nominee has admitted that several women who worked at the National Restaurant Association during his tenure as president of the organization received settlements. Politico has reported that the settlements were given because of sexual harassment allegations.
The woman, who will be the first to go public on Monday, sought Cain's help with an employment issue and was allegedly sexually harassed by him. Allred and her client will discuss, in detail, what she alleges occurred with Cain.
The Tea Party darling had hoped the scandal would die down, but that's not happening. Once again, he clashed with reporters on Saturday night after a debate with Newt Gingrich. Cain refused to answer questions about the allegations, and said, "You see what I mean? I was gonna do something that my staff told me not to do and try to respond, okay? What I'm saying is this -- we are getting back on message, end of story. Back on message. Read all of the other accounts. Read all of the other accounts where everything has been answered in the story. We're getting back on message, okay?"
Article continues below advertisement