Exclusive
PHOTOS: Inside Rep. Anthony Weiner's Condo -- First Pics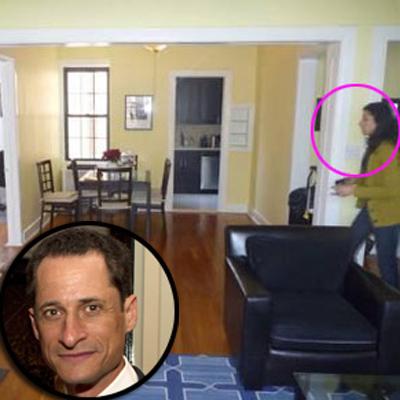 As the sex scandal surrounding Rep. Anthony Weiner continues to spiral out of control it's hard to imagine that the congressman and his pregnant wife, Huma Abedin, have time to go house hunting.
The couple had placed their Queens, New York condo up for sale 80 days ago but suddenly took it off the market earlier this week, and RadarOnline.com has an inside look into the disgraced politician's home.
Article continues below advertisement
RadarOnline.com reported on Wednesday that Weiner and Huma are expecting their first baby so it's natural that they would want to move into a bigger home to start their family. It appears that they put the 2-bed, 1 1/2-bath condo on the market soon after getting the good news.
However, no-one could have predicted the force that Weinergate would hit and the couple has obviously decided that this is not a good time to sell after all.
The 850-square-foot home is listed on the real estate website Trulia.com with an asking price of $449,000.
Located on a tree-lined street in the Forest Hills area of Brooklyn, the Weiner's 1939 condo boasts all-new kitchen appliances, hardwood floors, a garage, private yard and a washer and dryer.
Weiner's wife, Huma, can be spotted walking through the living room in one of the condo photos. In another shot, the couple's fluffy yellow cat that inadvertently landed in one of the infamous Twitter pics can be seen sitting nonchalantly in the bedroom.
Article continues below advertisement
The second bedroom appeared to be used as a a home office, with a desk, computer and a framed J. F. Kennedy poster - the perfect wall decoration for an ambitious Democrat.
Huma, 35, an aide to Secretary of State Hillary Clinton, is in the early stages of pregnancy, according to three people with knowledge of the situation, the New York Times reported Wednesday.
The news of the baby was disclosed by the couple to close friends and family.
As RadarOnline.com previously reported, Weiner engaged in an extramarital relationship when he sent explicit messages via Facebook to a 40-year-old Vegas blackjack dealer, as well as with other women around the country.
His fellow Democrats are now calling for his resignation in light of his admission of the "inappropriate" affairs and lying about them for over a week.
RELATED STORIES:
Congressman Weiner Can't Say 'With Certitude' That Lewd Photo Isn't Of Him