Exclusive
REPORT: Rep. Anthony Weiner's Wife Pregnant With Their First Child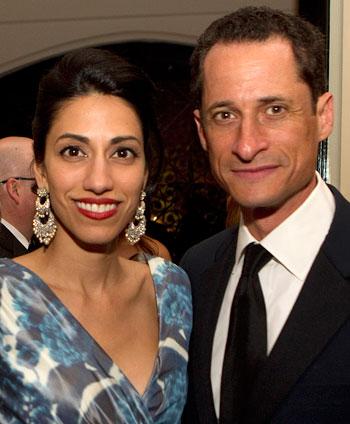 RadarOnline.com Staff Reporter
There's a little Weiner on the way!
Anthony Weiner apologized profusely to his wife Huma Abedin in his tearful press conference Monday, but in a shocking development, it appears that she is pregnant!
Huma, 35, an aide to Secretary of State Hillary Clinton, is in the early stages of pregnancy, according to three people with knowledge of the situation, the New York Times reported Wednesday.
Article continues below advertisement
The news of the baby was disclosed by the couple to close friends and family.
Weiner's wife is currently out of the country traveling with Secretary Clinton. Meanwhile, Weiner was spotted on Tuesday in his district office in New York. They have been married since 2010, during which time he was conversing over the internet with multiple women in sexually detailed messages.
President Bill Clinton officiated at Anthony and Huma's wedding.
As RadarOnline.com previously reported, Weiner engaged in an extramarital relationship when he sent explicit messages via Facebook to a 40-year-old Vegas blackjack dealer, as well as with other women around the country.
His fellow Democrats are now calling for his resignation in light of his admission of the "inappropriate" affairs and lying about them for over a week.
RELATED STORIES:
Congressman Weiner Can't Say 'With Certitude' That Lewd Photo Isn't Of Him