Herman Cain Tells Jimmy Kimmel: 'l'll Answer Fourth Woman's Accusations Today'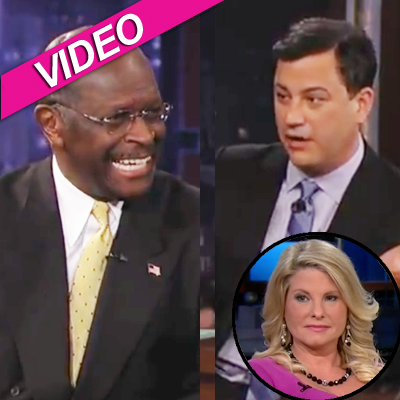 Radar Staff Writer
Herman Cain says he'll hold a news conference in Phoenix, Arizona on Tuesday to address the fourth woman who's claiming he sexually harassed her, Chicago native Sharon Bialek.
On Monday, the Republican presidential hopeful sat down with Jimmy Kimmel, reacting to Bialek's claims he put his hand under her skirt and reached for her genitals -- as well as pulling her head "towards his crotch" when she came to him for professional help in 1997.
Article continues below advertisement
The former Godfather's Pizza president and chief executive officer "decided to provide Bialek with his idea of a stimulus package," her attorney Gloria Allred said.
Asked how his day was, the charismatic Cain said, "Well, all things considered, I'm still alive. It got off to somewhat of a rough start. We were a little surprised at what showed up on TV.
"We watched the news conference because we didn't even know that this whole thing about "Woman Number Four" was going to even come out, so that was a surprise. At least it wasn't one of the many that have the first name "Anonymous," so now this one actually had a name and a face, so we watched to see what it was and who it was and we are dealing with it."
Kimmel stirred it up a bit, asking Cain his thoughts on Allred.
"You almost made me say something that my handlers says you should not say," Cain said. "Let me put it to you this way: I can't think of anything that I would hire her to do, OK? I can't think of a thing!"
Cain said, "There's not an ounce of truth in all of these accusations, and my team is putting this stuff together. That is why I'm willing to do a press conference ... to set the record straight."
Article continues below advertisement
Watch the video on RadarOnline.com
Cain told Kimmel he'd "talk about any and all future firestorms, because here's one thing people know about Herman Cain: I'm in it to win it and I'm not going to be discouraged."
Cain's news conference is slated to begin in Phoenix at 3 p.m. local time Tuesday; stay with RadarOnline.com for more on this story as it breaks.