Herman Cain To Appear On Jimmy Kimmel Live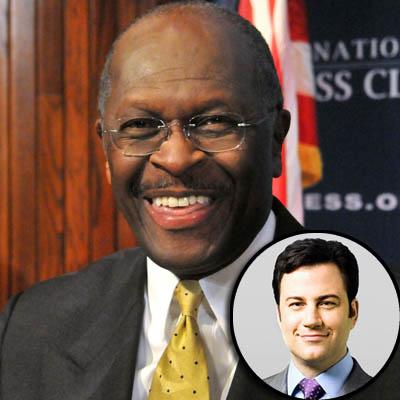 Republican presidential hopeful Herman Cain will face off with one of the sharpest minds in comedy, Jimmy Kimmel, when he appears on ABC's late night franchise Monday.
Kimmel's staff got the idea to invite Cain after a skit in which they lampooned the former Godfather's Pizza president and chief executive officer last month.
J.D. Gordon, the vice president of communications for Cain's campaign, called the Kimmel appearance "a tremendous opportunity" for Cain to get his word out.
Article continues below advertisement
"Mr. Cain has said for months now that America needs a sense of humor and to the extent that he appears on shows like with Mr. Kimmel, I think he can help achieve that," Gordon said. (Cain previously appeared on The Tonight Show with Jay Leno.)
According to new polls, the race for the Republican presidential nomination is currently a dead heat between Cain and former Massachusetts Gov. Mitt Romney.
The appearance comes on the heels of RadarOnline.com's exclusive that a fourth woman is set to go public with sexual harassment accusations against Cain in a news conference at New York's famed Friar's Club Monday; she is being represented by L.A. powerhouse attorney Gloria Allred.