Texas Governor Rick Perry Not Quitting After Debate Debacle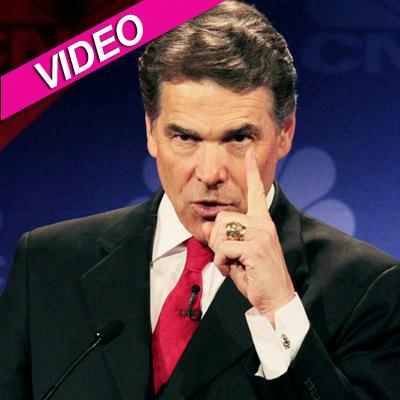 Radar Staff Writer
Texas governor Rick Perry Thursday said he's staying in the the race for the Republican presidential nomination, despite his own admission he embarrassingly "stepped in it" during Wednesday's GOP debate in which he was tongue-tied when asked a relatively simple question.
Perry appeared on Thursday's edition of The Today Show, laughing and smiling about his gaffe in a chat with Ann Curry.
Article continues below advertisement
"I will tell you, I don't mind saying, clearly, that I stepped in it last night," he said. "But I think I'm kind of like most Americans and there are so many agencies of government out there we'd like to forget that the department of energy was one of those."
Perry reiterated "the issue wasn't about whether I can sing off a line of a number of agencies," but rather how confusing the amount of bureaucracies in government has become to the American people, in general.
Asked if he would bow out of the race, he told Curry, "Ann, you know what today is? This is the 236th birthday of the United States Marine Corps -- if there was a day to stay in the fight, this is it.
"So you bet I'm going to continue on, and this campaign is about ideas. It's not about who's the slickest debater or whether anyone has made a mistake or not -- we're all going to make mistakes."
"This ain't a day for quitting nothing," he said. "The president of the United States said there were 57 states one time -- everybody makes mistakes."
Article continues below advertisement
Asked what three federal departments he would eliminate during Wednesday's debate, Perry said, "Commerce, Education and the -- what's the third one there? Let's see ..."
Perry stalled and stammered, as an uncomfortable silence blanketed the room watching the politician struggle to answer the question.
Perry's GOP colleagues suggested the Environmental Protection Agency, which Perry initially agreed with, but then backed off of, still unable to specify which agency he'd do away with.
"Seriously: You can't name the third one?" moderator John Harwood said, stunned.
"The third agency of government I would do away with -- the Education, the Commerce. And let's see. I can't. The third one, I can't," Perry said. "Oops."
Watch the video on RadarOnline.com
Perry told Good Morning America in a pre-taped interview Thursday he meant to say the Energy Department.
"There were so many federal agencies that come to mind that I want to get rid of, that the Energy Department would not come out," he said.
Many experts early Thursday predicted the choke would cost Perry his campaign.