Elderly Bus Monitor At Center Of Horrifying Bullying Video Doesn't Want To Press Charges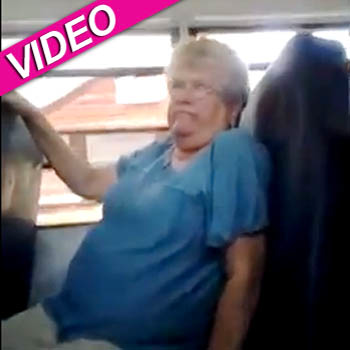 By Debbie Emery - RadarOnline.com Reporter
The school bus monitor who was cruelly bullied by a group of vicious seventh graders is not planning to press charges against the boys, it was revealed in a news conference held by police and school authorities on Thursday.
Captain Steve Chatterton of the Greece Police Department revealed that the victim, 68-year-old Karen Klein, informed investigators that she will not seek criminal charges against the four students from Athena Middle School in Rochester, in upstate New York.
Article continues below advertisement
"Obviously we are upset with what we saw in the video, both as parents and police officers," Chatterton told reporters during a press conference Thursday afternoon. "But at this time, she has decided she does not want to press criminal charges."
As RadarOnline.com previously reported, the boys videoed their torment and then posted the shocking clip -- which had more than 1.2 million YouTube hits in less than two days -- showing a sobbing Klein being bombarded with insults about her weight, graphic sexual comments, threats, called poor, and then physically assaulted with a book.
In New York, Chatterton said in order to charge a 13-year-old in Family Court, the alleged crime must constitute a misdemeanor or a felony. Harassment is a violation and does not meet that threshold, reported FoxNews.com.
"The victim has to feel threatened, while she was harassed she said she did not feel threatened," he explained. "While it is horrific, at this point she has decided no charges."
Klein's decision does not however mean that the police will stop looking into the disturbing incident. "We have not finished our investigation just because she doesn't want to press charges. The investigation will be documented the exact same way in case she changes her mind," added Chatterton.
Article continues below advertisement
Earlier in the news conference, town supervisor John Auberger commended the bus monitor for how she had handled the traumatic situation and thanked the residents of Greece, which has a population of around 100,000, for backing her.
"I also want to take this opportunity to commend Karen Klein for her strength and courage for having to endure such treatment, her response to their bullying is an example of the type of people which make our community great," he told reporters.
"The outpouring of care and concern that she has received from our community towards her is indicative of the depth and breadth of this great town and not the actions of those aboard Bus 784."
In regards to disciplinary action, the town government does not have jurisdiction over the school district in regards to discipline and those determinations rest solely with the district and the school board, he explained.
Article continues below advertisement
A bus driver for 20 years before she became a monitor, Klein had a son who committed suicide 10 years ago and said the most stinging comment was when one of the boys told her that her family "all killed themselves because they didn't want to be near you."
There is a total of three videos, revealed a spokesperson from the Greece Central School District, and the students were contacted after the incident and then voluntarily came forward to the school.
There has been an outpouring of sympathy for Klein from across the country since the verbal attack and it has added to the recent surge in awareness of bullying.
Support in the form of flowers, well wishes and donations are arriving from as far away as Australia for Klein, and a fundraising website established by Internet Samaritans has raised more than $215,000 to give Klein a much-deserved vacation of a lifetime.