As The Money Pours In, Bullied Bus Monitor All Smiles On Today Show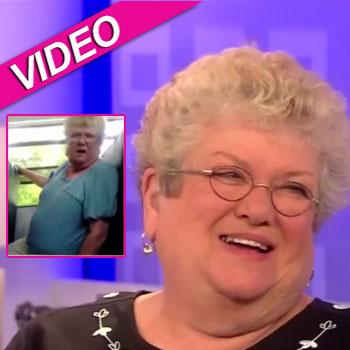 By Neil Woulfe - RadarOnline.com Senior News Director
Bullied bus monitor Karen Klein was all smiles on Monday's Today show, as she appeared in studio to talk about the overwhelming reaction to the now infamous viral video showing her being taunted by several 7th grade boys from Athena Middle School in Greece, New York exactly a week ago.
Since the shocking, 10-minute video first hit YouTube last week, as of Monday morning, it has garnered nearly 7,000,000 views, and the amount of money donated is quickly approaching $650,000 -- a remarkable feat considering the original goal to send her on a vacation was to raise $5,000. (Also, there's still 26 days left in the fundraising campaign.)
Article continues below advertisement
On Today, the 68-year-old grandmother of eight expressed her shock to co-host Ann Curry about the amount of money pledged, saying, "I keep thinking 'What have I done?'.
"It's like I don't almost feel like I deserve it.. What I am glad about is the fact that it has come out, and everyone knows what goes on.. not all the time, not all the kids.. but that it does happen," Klein told Curry.
In addition to the money pouring in, Klein says she's also received messages from other people who've been the target of bullies.
"I've gotten so many notes from people who have been bullied…who've been very hurt… and my heart goes out to these people, and I would like to contact everyone of them and tell them how sorry I am," she said.
Watch the video on RadarOnline.com (WARNING: Content Is Disturbing & Contains Profanity)
Curry noted during the interview that Klein has received written apologies from two of boys and from one of their mothers, as well as a face-to-face apology from one of the boy's fathers. Curry then asked if Klein would like to personally talk to the 7th grade boys about the incident.
Article continues below advertisement
"Actually, I would like to eventually, not right away, (I'd) ask them why they did it," Klein said.
Watch the video on RadarOnline.com
"You want an explanation." Curry stated.
"An apology and an explanation," Klein replied.
Klein's daughter Michelle joined her mother on the Today couch.
Asked Curry: "Michelle, when you watched the video, what was the worst moment for you?"
Michelle said she didn't watch the whole video. "When the boy touched her ear, that was it. As soon as he touched her, it was over. I had to turn it off. I can't believe that somebody would do that to my mother."
"What do u want done?" asked Curry.
"I want kids to stop bullying," Klein said. "Maybe they could start up a new class in school to teach these kids not to do stuff like that. They're not all bad kids, and I thought maybe I would go back because they aren't all bad and I enjoy my job."
When Curry asked Klein if she will go back to being a school monitor when school starts in the fall, she laughed and said "maybe." (Klein earns $15,000 a year as a bus monitor.)
Article continues below advertisement
"What are you going to do with all this money?" Curry asked.
"Oh, are you serious?" Klein said laughing. "What would anyone do with that much money? I'd like to invest some, and of course donate… (as she jokingly pointed to her daughter Michelle.)
"To charity," Michelle said, referring to herself and finishing the joke.
Klein also said that the Canadian man who started the indiegogo fundraising drive is coming to Rochester on Wednesday and they will meet in person.