Bullied Teen Whitney Kropp Triumphs Over Tormentors At Homecoming Game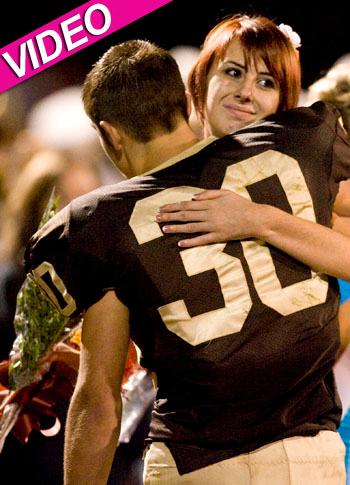 Just weeks ago, 16-year-old Michigan sophomore Whitney Kropp was feeling miserable after bullies at her high school elected her to the homecoming court – not because she was part of the popular crowd - but as a cruel prank.
And after receiving nationwide support, the teen held her head high as she courageously walked out on the field during the homecoming football game at Ogemaw Heights High School on Friday to accept the honor.
Article continues below advertisement
More than 1,000 people turned up to support Whitney who has seen local businesses in her town rally to her support to provide her with her dress, a new hair style, professional photos, free dinner and a manicure and make-up to get her glammed up for the occasion.
"The kids that are bullying you, do not let them bring you down," she told the crowd during half-time. "Stand up for what you believe in and go with your heart and go with your gut."
"I'm so happy. It's just so much right now for me. I had thoughts about not coming but I actually changed my mind and came out. I just thought maybe I wouldn't have fun. But I'm having a lot of fun right now."
Whitney was driven around the track in the back of a pickup along with the rest of the homecoming court and the stadium erupted when she drove by with sophomore Josh Awrey who had initially dropped out but then jumped back on board to support her.
Article continues below advertisement