Bullied Acne Teen Makes Stunning Catwalk Queen Debut At Fashion Week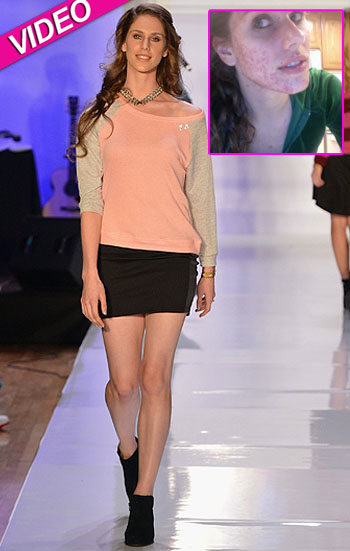 This beautiful young lady is going to go far!
After years of teasing, verbal abuse, and insecurity stemming from an extreme case of cystic acne across her face, neck and back, Cassandra Bankson, 19, had her dream come true Wednesday, RadarOnline.com is reporting.
During New York Fashion Week Cassandra wow'ed the audience, walking her first catwalk for designer Stacey Igel at her Boy Meets Girl show in Chelsea, Manhattan.
Article continues below advertisement
Looking every bit as poised and possessed as the veteran models, the fashion novice confidently strutted her stuff, seemingly worlds apart from the shy, bullied young girl she once was.
"Cassandra's long hair fit the style of what we're doing. Natural, carefree, she definitely had the vibe of what I was casting for the show," Igel told TODAY about her decision to cast the teen.
As RadarOnline.com previously reported, Bankson first gained notoriety after making a series of youtube videos demonstrating how she managed to hide her extensive facial scarring by using a combo of foundation, concealer, powders and spray to disguise her skin condition, transforming herself on screen.
The video rapidly went viral receiving more than 40 million clicks and inspiring people with acne scarring across the globe.
The 5'11" beauty who had previously been so ashamed by her looks that she had stopped going to school to escape the constant torment, certainly has got nothing to be ashamed of now as her stunning catwalk debut proves.
From Girl Next Door To Sexy Rocker! Kylie Jenner Gets Edgy For Avril Lavigne's Fashion Show
Work It Girls! Kendall And Kylie Jenner's Glam Fashion Week Photos
Posh Smiles! Victoria Beckham's Collection Wows NY Fashion Week Elite