Gay Teen Who Took To Web In 'It Gets Better' Video Kills Himself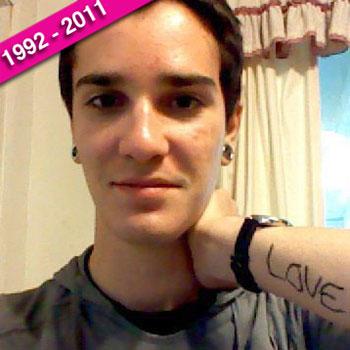 In what's becoming a sad epidemic, another gay teenager who took to the web to express his anguish over enduring the taunts of bullies, has taken his own life.
EricJames Borges, a 19-year-old California filmmaker, killed himself this week, less than a month after he posted a It Gets Better YouTube video describing the pain he endured growing up.
EricJames -- who said he was raised in "an extremist Christian household" -- claimed his mother "knew I was gay and performed an exorcism on me in an attempt to cure me.
Article continues below advertisement
"My earliest recollections of my experience with the relentless and ongoing bullying was in kindergarten, but of course to a lesser degree," he said. "I was physically, mentally, emotionally and verbally assaulted on a day-to-day basis for my perceived sexual orientation. My name was not Eric, but f****t. I was stomped, spit on, and physically assaulted."
EricJames went on to say that he endured such abuse in high school, he wound up dropping out.
In a sad twist, EricJames had been a volunteer for The Trevor Project, a national organization providing crisis intervention and suicide prevention services to LGBT youth.
The group said in a statement following his passing, "We are deeply saddened to hear about the tragic death of EricJames Borges, and our hearts go out to his family and friends, and his community. Our main concern right now is that those affected by his death feel supported and can get the care they need."